East Palace West Palace (Dong gong xi gong) (Behind the Forbidden City)
(1998)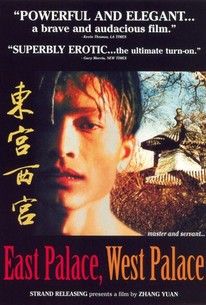 East Palace West Palace (Dong gong xi gong) (Behind the Forbidden City) Videos
East Palace West Palace (Dong gong xi gong) (Behind the Forbidden City) Photos
Movie Info
The title is Chinese slang for the bathrooms located at Tiannamen Square, favorite haunts of Beijing gays. Primarily a psychological drama, it centers on a verbal cat and mouse game played between a gay writer and the straight policeman who arrests and interrogates him.
Rating:
PG (violence)
Genre:
, ,
Directed By:
Written By:
In Theaters:
On DVD:
Runtime:
Studio:
Strand Releasing
Watch it now
Cast
Critic Reviews for East Palace West Palace (Dong gong xi gong) (Behind the Forbidden City)
Audience Reviews for East Palace West Palace (Dong gong xi gong) (Behind the Forbidden City)
½
The first openly gay film to come out of Communist China is a good choice for the Valentines Day couple looking for a little more titillation than romance. This 1996 flick is disconcertingly strange, with a ponderous pace and a fixation on light sado-masochism, but it's still hauntingly absorbing. A policeman (Jun) arrests a gay man (Han) caught prowling a public park after dark for sex. The officer basically molests and humiliates the man, ostensibly hoping to scare him away from public sex and his "despicable" sexual orientation. But the victim senses something about the cop and arranges to get caught a second time. The policeman takes the prisoner back to his park-side headquarters and starts to question him about his homosexual past and predilections, asking for vivid details. Though the arc of the story holds few surprises, the way it's told is oddly alluring. The gay man senses his tale has some power over the officer, so he divulges information in spurts, jumping from story to story and throwing in Chinese folklore. Every so often, the gruff cop gets fed up and abuses the gay man, who we sense wanted it all along. It's mild torture as aphrodisiac, replete with the occasional goofy, over-the-top sexual symbolism. (The prisoner is punished with a hose at one point, get it?) Still, East Palace, West Palace is told with skill and subtle friction, turning the power of Chinese brutality into a method of subversive sexual arousal.
Stephen Miller
Yuan Zhang's 4th feature. A very beautiful and philosophical dailogue drama between a gay guy and a cop whom he loves. Through the conversation between them at the interrogation at midnight police station, it questions us what is our dignity, what is love, and what is something we just cannot say right or wrong. Despite its minimal number of characters, its theme is deep. The screenplay and cinematography which make the most of natural lights are great. What is the best of this films is sound design - music and sound FXs are used very effectively to describe characters' mentality, to make us feel tension and excitement, and to add some mysterious mood. Si Han (the gay guy) and Jun Hu (the cop), their performances are really superb. Yuan Zhang shows his real ability when he chooses a controversial topic like this one. Described in this film are modern China's doubt, rip current, conflict betwen old and new morals, and something universal. This sincerity of the film moves me.
Naoya Kugimiya
Discussion Forum
Discuss East Palace West Palace (Dong gong xi gong) (Behind the Forbidden City) on our Movie forum!
News & Features