East Side, West Side
(1949)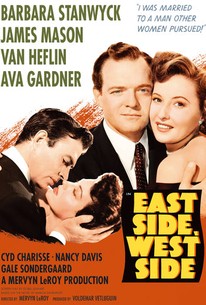 AUDIENCE SCORE
Critic Consensus: No consensus yet.
East Side, West Side Videos
East Side, West Side Photos
Movie Info
Based on the novel by Marcia Davenport, a New York society lady (Barbara Stanwyck) and her husband (James Mason) have problems when he begins seeing a younger woman (Ava Gardner).
Rating:
NR
Genre:
,
Directed By:
Written By:
In Theaters:
On DVD:
Runtime:
Studio:
Warner Home Video
Critic Reviews for East Side, West Side
All Critics (2) | Fresh (0) | Rotten (2)

In the MGM tradition, it presents such uninteresting melodrama trash with style and makes it entertaining through its talented cast.

Ozus' World Movie Reviews
Audience Reviews for East Side, West Side
If Only it Knew What Kind of Movie It Wanted to Be I strongly suspect it would make the studios happier that I will watch anything starring certain people than it would make the people themselves. Yes, on the one hand, people watching their movies is what makes stars desirable. On the other hand, I am watching these movies in most cases many years after the fact. If you had asked her, I'm sure Barbara Stanwyck would have rather I had just watched [i]Double Indemnity[/i] again; James Mason probably would have settled for [i]20,000 Leagues Under the Sea[/i]. I'm sure they both also would have agreed that this wasn't their worst movie, in that it's not actually a bad movie. (Just not a very good one.) After all, having someone watch one of their bad movies over sixty years later (and in both cases more than twenty years after they died!) isn't exactly going to help their careers. And it means I watched a performance they might not have been terribly proud of. Today, I watched them as Jessie and Brandon Bourne. No, they're not spies; she is the daughter of a once-famous actress (Gale Sondergaard) and he lives on his wife's money. (I [i]think[/i] she also has a job, but I'm not sure quite what.) He had an affair with Isabel Lorrison (Ava Gardner), who then left for Paris. She is back, and she knows that, when she crooks her little finger, Brandon comes running. And indeed, he is helped out of a brawl at a nightclub after a fight regarding her by pretty little Rosa Senta (Cyd Charisse). Rosa is in love with Mark Dwyer (Van Heflin), who promptly falls in love with Jessie. Isabel is being supported by I Missed Who--who I'm pretty sure is also fooling around with Helen Lee (Nancy Davis, before she was married). But I missed pretty much everyone's name, so I'm not sure if Helen is the person who throws us the big plot twist, which I'll get to in a minute. Will Brandon stay with Jessie? Will Rosa get Mark? Does anyone care? I am going to have to give spoilers here, because there are some things which really kind of irritate me. About halfway through the picture, someone murders Isabel. The film goes out of its way to prove that it could not have been Jessie; fair enough. This isn't about her in that way, so she was off with Mark. The question is whether Brandon did it or not. Now, if I'm right, the killer was Nancy, but it could have been anyone for all it mattered. (You should know, by the way, that I am valiantly resisting all manner of Just Say No jokes.) Somebody could have just broken in and been burgling her apartment for all it mattered. The issue is that we had to create One Great Conflict in the relationship between Jessie and Brandon, one which took Isabel out of the picture as an issue in and of herself. It had to be about whether Jessie trusted Brandon, about whether she'd stand by him in his hour of need. How much did she trust him? Really, there are at least four plots to this movie, none of which have been given enough detail to carry an entire movie. The story of Mark and Rosa is interesting. The love triangles of Mark, Jessie, and Brandon and Jessie, Brandon, and Isabel, respectively, are interesting. The murder of Isabel could have been interesting if they gave us anything to go on. And in fact, each of those stories could have combined with one of the others to make a pretty good movie--but only one. The obvious solution to the conflicting love triangles is for Jessie to kick Mark out to Isabel's and start a relationship with Mark instead. The only reason to add Rosa into the mix is to leave her heartbroken; we actually already have a setup for how Mark and Jessie would meet, so all I see him doing is brushing off the affections of a girl, claiming they aren't real because of how long she's had them. Actually, it kind of makes me like him less. If Mark had been just a detective investigating the murder, his story with Rosa would have been sweeter. I will say that I'm surprised that the movie decided that divorce was the right answer to Jessie and Brandon's story. I agree, mind; they are not two people who should be married. One gets the distinct impression that they are married because Brandon likes money and status, and he can get those as Jessie's husband. I don't even know if I want her to end up with Mark instead; as I say, I feel too sorry for Rosa. I just don't want her to be with Brandon anymore, because he doesn't deserve her. However, it was not unknown for Joe Breen to announce that marriages in movies had to be saved. It's entirely possible that he would have insisted that Brandon be made somehow salvageable--but it's also worth noting that he had an affair with Isabel, and that's also a no-no under the Code, which is probably why several sources wrongly claim that his affair was before his marriage to Jessie. I don't want a straight remake of this movie; I don't think it deserves it. But I'd like to see similar material handled so sensibly today.
Edith Nelson
A good drama about complicated romances.
½
A great cast isn't given much to do in this generally droll melodrama that gets slightly noirish. Barbara Stanwyck and James Mason are surprisingly unmemorable, but and early performance by Ava Gardner stands out (as if a young Ava Gardner couldn't stand out) for the few scenes she has but East Side, West Side. Otherwise this movie is just dated and for the most part forgettable.
Michael Gildea
Super Reviewer
East Side, West Side Quotes
There are no approved quotes yet for this movie.