Easter Bunny, Kill! Kill!
(2006)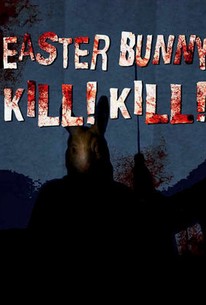 AUDIENCE SCORE
Critic Consensus: No consensus yet.
Movie Info
A sleazy con-man torments a mentally handicapped youngster who's obsessed with Easter, only to incur the wrath of a murderous lunatic in a frightening rabbit mask. Remington (Timothy Muskatell) is a violent sleazebag of the lowest order; after gaining the trust of a lonely single mother, he leaves her gentle son Nicholas in the care of a child molesting drug dealer while he heads out to party with some hookers. Meanwhile, Nicolas forges a bond with his new pet bunny that helps him deal with the debauchery that's taken over his life. Later, Nicolas' abusers all begin falling prey to a malevolent killer with a bunny mask, and a bitter grudge.
Critic Reviews for Easter Bunny, Kill! Kill!
All Critics (4) | Fresh (4) | Rotten (0)
Easter Bunny Kill! Kill! starts out with a degree of ambition that it eventually backs away from. Still, it manages to mine discomfort from a genre that all too often feels rote.


Easter Bunny, Kill! Kill! revels in its obscenity and packs enough punch to knock out even the most jaded of viewers. You've been warned.
Audience Reviews for Easter Bunny, Kill! Kill!
½
Easter Bunny Kill Kill is an independent film that struggles to establish story and character along with overly ambitious and ultimately amateur direction. A mentally retarded boy is terrorized by his mother's new boyfriend. One night, when mom is working a double shift, things take a sudden turn. Chad Ferrin wrote and directed this homegrown film that often tries too hard to be something other than a low budget horror - camera tricks, rapid cuts, and too much dialog cause this flick to sputter about and cause more frustration than true horror or anything truly "disturbing." Once a killer in a bunny mask shows up, things pick up a bit and many of the on-screen kills are inventive and well done for the limited budget. This flick has received some rave reviews in some circles, but it really doesn't offer anything that hasn't been done before, and the "disturbing" factor was completely lost on me. That being said, there is a fair amount to respect about the great deal of work Ferrin put into this production, and as far as independently produced films go, this one easier to get through than most.
John Kuehne
Easter Bunny, Kill! Kill! Quotes
There are no approved quotes yet for this movie.
Discussion Forum
Discuss Easter Bunny, Kill! Kill! on our Movie forum!