Eastern Promises
(2007)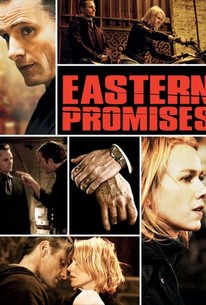 TOMATOMETER
AUDIENCE SCORE
Critic Consensus: David Cronenberg triumphs again, showcasing the Viggo Mortensen's onscreen prowess in a daring performance. Bearing the trademarks of psychological drama and gritty violence, Eastern Promises is a very compelling crime story.
Movie Info
Russian-born Nikolai Luzhin is a driver for one of London's most notorious organized crime families of Eastern European origin. The family itself is part of the Vory V Zakone criminal brotherhood. Headed by Semyon, whose courtly charm as the proprietor of the plush Trans-Siberian restaurant masks a cold and brutal core, the family's fortunes are tested by Semyon's volatile son and enforcer, Kirill, who is more tightly bound to Nikolai than to his own father. But Nikolai's existence is jarred once he crosses paths at Christmastime with Anna Khitrova, a midwife at a North London hospital. Anna is deeply affected by a young teenager who dies while giving birth to a baby. Anna resolves to try to trace the baby's lineage and relatives. Anna's mother Helen does not discourage her, but Anna's irascible Russian-born uncle Stepan urges caution. By delving into the diary, Anna accidentally unleashes the full fury of the Vory. With Semyon and Kirill closing ranks and Anna pressing her inquiries, Nikolai finds his loyalties divided. The family tightens its grip on him; who can, or should, he trust? Several lives--including his own--hang in the balance as a chain of murder, deceit and retribution reverberates through the darkest corners of both the family and London itself.
News & Interviews for Eastern Promises
Critic Reviews for Eastern Promises
Audience Reviews for Eastern Promises
David Cronenberg being more famous for his body horror films crafts this stunning, riveting thriller with dramatic overtones. With a brilliant cast of actors, Cronenberg does a great job at crafting a stunning picture that proves that he is able to make something other than a horror film. I thought that this film was a far superior film than A History of Violence, which I couldn't get into. The film has a very good story that is complimented by the performances of its actors, and it's a movie that is steadily paced and takes it's time for the story to unfold, therefore it's a movie that you are invested it more often than not because you are hooked at will happen next. Cronenberg's direction is immaculate and he crafts a fine picture with Eastern Promises. This is a solid film that is sure to please fans of Cronenberg's work, even if it's not a horror film, which is what he's most famous for, Eastern Promises is a taut, exciting picture that steadily unravels before you, and you simply cannot look away as it's truly an intriguing picture from start to finish. With memorable performances from its cast, especially that of Viggo Mortensen in a finely tuned performance that is menacing, cold blooded, this ranks also as one of his most intense yet. Eastern Promises is a visceral Thriller that is both brutal and beautiful in the sense that what Cronenberg has created here is simply a superb piece of cinema. If you have a taste for something different, and love David Cronenberg, then you're sure going to enjoy this film. Everything that is presented on-screen is near perfection, and it ranks among Cronenberg's most memorable films in the last few years.
A solid gangster film with some fresh (and some cliched) messages. Viggo Mortensen has an intriguingly reserved performance that added a great deal to the film's effectiveness. Definitely worth seeing, even if it lacks some of the punch that the typical gangster film delivers.
Christian C
Super Reviewer
I think a tension in the atmosphere is what was missing from this flickr,still though ,due to the story line can keep you interested.
Eliza Norton
Super Reviewer
Eastern Promises Quotes
| | |
| --- | --- |
| Semyon: | [After rapping on a body stored in a freezer] Do you have hair dryer? |
| Semyon: | [after rapping on a body stored in a freezer] Do you have hair dryer? |
| | |
| --- | --- |
| Nikolai Luzhin: | Sometimes, if things are closed, you just, open them up. |
| | |
| --- | --- |
| Nikolai Luzhin: | I can't become king if someone else already sits on the throne. |
Discussion Forum
Discuss Eastern Promises on our Movie forum!