Easy Riders---Raging Bulls
(2003)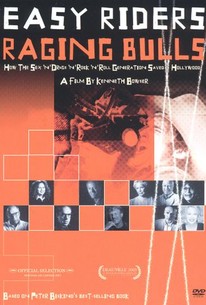 Movie Info
The 1970s have come to be regarded as the last true golden age of American filmmaking, and this documentary, based on Peter Biskind's book of the same name, looks both at the movies and the people who made them in an era when the Hollywood system was briefly turned upside down. Easy Riders, Raging Bulls begins in the late '60s as the major Hollywood film studios were suffering massive losses when expensive blockbusters began to fall out of favor and a new generation of more independent and free-thinking creative minds were starting to make themselves heard. With the critical and financial success of Easy Rider, the major studios began to cautiously embrace the "new Hollywood," and directors such as Dennis Hopper, Bob Rafelson, Hal Ashby, Peter Bogdanovich, William Friedkin, Martin Scorsese, and Robert Altman produced striking and ground-breaking work that also found favor with the mass audience. However, professional missteps and personal demons robbed many of the "new Hollywood" talents of their powers by the decade's end, and when two of the lesser lights of the movement, George Lucas and Steven Spielberg, enjoyed unexpectedly massive success with films which creatively looked to the past while economically changing the stakes of the movie business, many of their peers were lost in the shuffle. Originally produced for broadcast on the BBC, an expanded version of Easy Riders, Raging Bulls was aired on the American cable outlet Trio.
Rating:
NR
Genre:
, , ,
Directed By:
Written By:
In Theaters:
On DVD:
Runtime:
Studio:
Freemantle Corporation
Critic Reviews for Easy Riders---Raging Bulls
Audience Reviews for Easy Riders---Raging Bulls
Very good documentary on my favorite film decade, the 1970's, which I was very lucky to have lived through. Every decade since has been an incredible disappointment. This was the decade where filmmakers took chances and made films that mattered. Even the straight-entertainment films had a punch they rarely have since. The documentary is good, but not as good as the more vibrant "A Decade Under the Influence," which I highly recommend!
John Miller
As a true film buff, I always felt I should know more about the films of the 70s, that I should be a bigger fan than I am. This documentary, based on a book by Peter Biskind, traces the history of filmmaking from the collapse of the Studio System to the rise of auteurs like Scorsese, Coppola, Bogdanovich, and Altman, followed by the young upstarts Spielberg and Lucas, who took films to a blockbuster level. It is a fascinating history told by the directors, screenwriters, actors and producers of those very films, and yet it showed me exactly why I never really developed an interest in much of their work. The era was defined by art that was fueled by drugs, and quite a lot of the "art" isn't my taste at all. No longer will I apologize for not being so familiar with the films of the early 70s, nor will I feel inferior because I don't care for "Easy Rider" or "Nashville" or "Midnight Cowboy" or "Raging Bull". These are simply not of interest to me. But hearing the history-makers speak of those days and their experiences while making these films is truly fascinating, and this documentary is something every film lover should see.
Jules Qualls
½
A good documentary that serves as an introduction to the much better book. Watch this first but then read the book. There's more sensationalism involved but it also covers much more detail. A good introduction overall.
David Sayers
Super Reviewer
Easy Riders---Raging Bulls Quotes
There are no approved quotes yet for this movie.