Eating Buccaneers
(2008)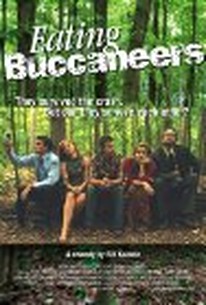 AUDIENCE SCORE
Critic Consensus: No consensus yet.
Movie Info
Eating Buccaneers could be described as The Office meets Lord Of The Flies. It's a feature film comedy about four self-absorbed advertising executives and one officious client who crash-land their charter plane into the north woods. They survive the crash, but can they survive each other?There's Doug, the irreverent, hot-shot copywriter with writer's block; Vanessa, the new-age art director with a knack for picking the wrong men; Jerry, the A-type VP of Account Services with a secret agenda; Andrea, his perky junior account executive with wilderness survival training; Stewart, the brand manager who can't make a decision without a focus group; and the mortally wounded Pilot who refuses to die.With nothing more than a box of Buccaneer chocolate bars, the group sets out to rescue themselves with dubious survival skills and even worse team-building abilities. As days pass, surprising revelations begin to mount as the Buccaneer bars begin to disappear. Unknowingly, each person has embarked on a third-class journey through hell that will help them to discover what's really important in their lives-that is, if they don't kill each other first. --© Official site
Critic Reviews for Eating Buccaneers
All Critics (2) | Top Critics (1) | Fresh (1) | Rotten (1)
Feels less like a satire than a rudimentary sitcom in search of a laugh-track.

Shows a promising trenchant sensibility, even though it ultimately fails in its efforts to lift its characters much above the level of caricature.
Audience Reviews for Eating Buccaneers
It's a good concept. A plane crash lands in a forest with five advertising executives on board. The movie-going public have to survive their harrowing ordeal. As the movie goes on, we see the days roll by. I find too many Canadian movies too formulated - you can see what is going to happen long before it does. This one is no exception.
Saw this at the Victoria Film Festival. It was so much fun. It's totally ridiculous - a dark comedy - but in the best possible way. Definitely recommend it! Go Canada!
meril lupin
Super Reviewer
Eating Buccaneers Quotes
There are no approved quotes yet for this movie.
Discussion Forum
Discuss Eating Buccaneers on our Movie forum!