Ed Gein
(2001)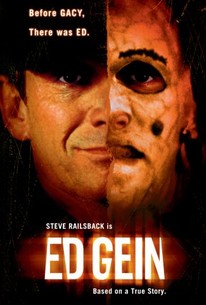 Movie Info
By day, Ed Gein was a quiet man who kept watch over the farm left to him by his late mother in Plainfield, a small rural community in Wisconsin. But by night, Gein was one of the most bizarre and dangerous psychopaths in recorded history. Raised by a violent alcoholic father and a mother with an obsessive fear of sin and hatred of sex, Gein had very few friends, and after the death of his parents, Gein was left to his own devices on the family farm (where, under a government subsidy program, he was paid not to grow crops), and his unhealthy obsessions eventually became ugly realities. Gein's crimes included murder, necrophilia, cannibalism, and grave robbing, with Gein using the flesh and bones of his victims to construct household objects, including a suit and mask made from human skin that Gein used when he wanted to dress up as a woman (it's been suggested that some of Gein's crimes stemmed from a twisted attempt to deal with his desire to change his gender). In 1957, two murders committed by Gein attracted the attention of the police, leading to Gein's arrest; near the end of that year, he was declared criminally insane and was committed for life to Wisconsin's Waupan State Hospital, where he stayed until his death in 1984. Gein's grisly story inspired a number of horror films, including Psycho, The Texas Chainsaw Massacre, and Deranged, but Ed Gein is the first feature based strictly on the facts of Gein's case, using his real name as well as those of most of his victims. Ed Gein stars Steve Railsback in the title role, with Carrie Snodgrass as his mother Augusta, and Sally Champlin and Carol Mansell as two of his victims.
Rating:
R
Genre:
,
Directed By:
Written By:
In Theaters:
On DVD:
Runtime:
Studio:
First Look
Critic Reviews for Ed Gein
Audience Reviews for Ed Gein
½
Ive read the true crime book "Deviant" by Harold Schechter, and if that book is accurate then the movie "Ed Gein" is pretty accurate. As far as I know the parts where the specter of Ed's dead mother instructs him and coaxes him are fiction though. The acting for the main characters is good. If you are looking for Texas Chainsaw Massacre then watch that, but if you want a good movie about the true story of the "original psycho" then watch this movie. And yes there is some gruesome stuff show.
Brandon Stocks
Ed Gein, the star of "Texas Chainsaw Massacare," gets another horrible movie. This one being more based on facts, still sucks. Just don't watch this film.
Joshua Dzindzio
Poor Steve Railsback has been type cast as Serial Killers & Bad Guys since Playing Manson, or is it that he is just so Darn Good at Being Bad? He makes a very Creepy Ed Gein as well, but he'll forever be Charlie Manson whenever I see that6 face.
Marilee Aschwanden
Ed Gein Quotes
There are no approved quotes yet for this movie.