Eden
(2013)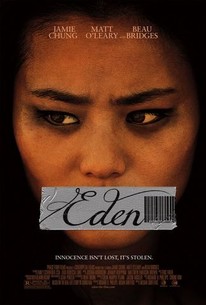 Movie Info
Jamie Chung stars in a searing contemporary drama, based on the true story of a Korean-American teenager who is kidnapped from a bar in New Mexico and transformed into a sex slave in Las Vegas by a band of ruthless international thugs. Beau Bridges plays an avuncular federal marshal, a good ol' boy, who turns out to be one of the operation's masterminds while Matt O'Leary is equally repellent as the boss's wildly erratic, drug-addled right-hand man. But it's Chung who breathes life into a story that could have been reduced to violent, even pornographic sensationalism, if not told so compassionately from the victim's point of view. Human trafficking is a $32 billion-a-year business, perpetrated throughout the world. EDEN gives a thoughtful, albeit mind-boggling perspective on how these crimes are sometimes committed in America within plain sight.
Rating:
R (for disturbing violent and sexual content involving human trafficking, language and drug use)
Genre:
Directed By:
In Theaters:
On DVD:
Runtime:
Studio:
News & Interviews for Eden
Audience Reviews for Eden
½
All movies about human trafficking are hard to watch and this one is no exception. It is a good story with an ending that is as happy as can be expected.
Heather Metzger
½
To cut to the chase, this is a really heavy movie. Oof. But I hard Jamie Chung was in it so I really wanted to watch it. Her performance alone in this movie is worth the watch. She's wonderful. The character changes quickly and drastically and she does it so well. Matt O'Leary also does a nice job as Vaughan, one of the higher ups at the organization. I was a little nervous going in with how brutal this movie was going to be, since some of these true story movies can get almost too graphic. Writer/Director Megan Griffiths takes the opposite route, and barely shows you anything, leaving the audience to imagine what these girls had to deal with. This, I think, is actually more affecting then showing six different brutal rape scenes. Overall, this is great. It's well acted, well paced, and leaves a haunting impression.
Jillian Leff
½
To me, films like this are the true definition of horror, because they really happened. Anyone can look up the graphic details on Wikipedia and see that not only did it happen here, but it happened fairly recently. Hyun-Jae was just a typical California teenager, who went out to party one night. She met a man, left with him, and quickly learned he wasn't what he appeared to be. Hyun-Jae is sold into prostitution and has no other choice, but to be a sex slave for the next three years. The film was very well done, in that it didn't go over the top. Abduction of Eden showed us, what we needed to see, in order to understand and be shocked by what happened, but it didn't go so far as to desensitize us to the story. Jamie Chung, A.K.A. Stu's wife from the Hangover, stars as Hyun Jae, and her performance was really key to how the audience would react to what was happening. Equally as good, was the jailer, Matthew O'Leary. It took me a while to recognize his as the kid from Domestic Disturbance and Spy Kids 2, and it was shocking to see how quickly he grew up. He was this horrible guy, doing terrible things, but there was a part of you that saw him as trapped as the girls were and you couldn't help but feel sorry for him. The cast makes the film, it's as simple as that. Abduction of Eden was a story that was fast moving and somewhat graphic, but ultimately predictable. Films like this one could go either way, it all comes down to just what they show and who they cast, and the producers of this film did an outstanding job of both.
Todd Smith
Super Reviewer
Eden Quotes
| | |
| --- | --- |
| Bob Gault: | If you're born by sin, you live by sin. |
| | |
| --- | --- |
| Bob Gault: | This is why the shepherd loses his sheep. |
Discussion Forum
Discuss Eden on our Movie forum!