Edge of the City
(1957)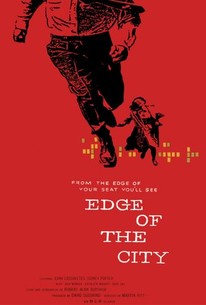 AUDIENCE SCORE
Critic Consensus: No consensus yet.
Movie Info
Edge of the City is a modern morality play, acted out in the railyards of New York. AWOL soldier John Cassavetes takes a job as a railroad worker, where he is taunted and bullied by supervisor Jack Warden, a union functionary appointed by the Mob. Cassavetes befriends his African-American co-worker Sydney Poitier, whose very presence enrages the bigoted Warden. Poitier dies in an "accident" arranged by Warden; Cassavetes knows the truth, but is frightened into silence by the corrupt union. Inspired by Poitier's widow to stand up for what is right, Cassavetes challenges Warden in a climactic one-on-one battle. Edge of the City was produced by David Susskind, who'd previously staged Robert Alan Aurthur's screenplay for television under its original title, A Man is Ten Feet Tall.
Rating:
NR
Genre:
,
Directed By:
Written By:
In Theaters:
On DVD:
Runtime:
Studio:
MGM
Critic Reviews for Edge of the City
All Critics (1) | Fresh (1) | Rotten (0)
Martin Ritt's impressive feature directing debut is a socially conscious drama, about union corruption, interracial integration, and moral integrity, well acted by John Cassavetes and Sidney Poitier.

Audience Reviews for Edge of the City
½
In "Edge of the City," Axel(John Cassavetes) moves from city to city. In New York City, he finds work as a stevedore on the docks by dropping Charles Malik's(Jack Warden) name to the boss. In return, Malik requests a piece of Axel's wages. By comparison, Tommy(Sidney Poitier) befriends Axel and gives him some leads on an apartment in Harlem. Tommy even goes so far as to invite Axel to join his crew. "Edge of the City" is a movie about racism. How it handles the topic so well is by hardly mentioning it and instead finding creative ways to provoke the less enlightened audience of 1957. First is by introducing Sidney Poitier off-screen, so the audience hears his voice before seeing him for the first time. Then, Poitier is paired first with Kathleen Maguire, who is not black, before showing him with Ruby Dee. And you have to remember that this was, as a character put it, at a time when it is smart to be patriotic. Otherwise, Sidney Poitier, John Cassavetes and Jack Warden all play off each other well in this movie that favors actions over words. But even though "Edge of the City" starts decently enough, and makes its point well in the end, the dramatic tension does fall off somewhat in the second act. And Axel has one too many secrets for comfort.
You can completely see what this movie is going for and where its going from the start. Every character beside the main on (axel north) its one dimensional and its a little paint by numbers. Sidney Poitier is charismatic as ever and John Cassavetes is good but the story is nothing special.
Alex Wolf Rkc
But He Still Goes to Prison, Right? I think Sidney Poitier made a career out of being an Approachable Black Man. He was just perfect in [i]Guess Who's Coming to Dinner[/i]. And I don't mean he was perfectly cast. I mean he was a perfect human being, because it had to be apparent that the problem people could have with him was that he was black. He was charming, if kind of unpleasant, in [i]Lilies of the Field[/i]. And so forth. I mean, that was just what he did--be someone White America could like even though he was black. You had to respect him before you could respect the characters he played, and that's no less true here. His character is whimsical. Silly. A bit on the grandiose side more often than not. But he's still just a really nice guy you can't help liking, because he needs to be in order for it to be apparent that the issues with him have to do with race, not with any of the other possible sources of conflict. Axel Nordmann (John Cassavetes) is living in New York under an assumed name. For reasons we do not yet know, he feels unable to communicate with his parents, although he calls them regularly so they know he's alive. One day, he goes to work in a freight yard under the auspices of Charles Malik (Jack Warden). Malik is all mobbed up, and Axel must give him part of his pay every week for the privilege of having a job at all, and Axel gets given the worst of the work and the most ill treatment. Tommy Tyler (Poitier), who leads one of the other work gangs, treats him well, and eventually, he makes it possible for Axel to transfer to his gang. He brings Axel home to meet his wife, Lucy (Ruby Dee), and he introduces Axel to Ellen Wilson (Kathleen Maguire), a friend of Lucy's. Axel and Lucy hit it off pretty well. But there's a dark secret or two hanging over Axel's head yet, and the secrets and Malik's attitude toward Tommy threaten to tear Axel's life apart. Okay, let's get the homoerotic thing out of the way right now, shall we? Because wow. There was some chemistry between Cassavetes (who went on to direct films I don't like) and Poitier. Arguably more than there was between Cassavetes and Maguire. Though there was also quite a bit between Poitier and Dee--and, come to that, Cassavetes and Dee. No, it didn't strike me that Axel would rather run off with Tommy than be in a relationship with Ellen, and that isn't even just because it was 1957. It's also because Tommy was married, and because that marriage was obviously happy. And he did seem to like Ellen well enough, even if there wasn't the same fire between them. It is also true that I feel very few movies present friendships between two men as they are, or anyway as they can be. This could well be the kind of closeness where, yeah, they'll spend an awful lot of time together but are also madly in love with women. I've seen those in real men. It is also, however, possible that one or both is bi, and they might have been together in different circumstances. This movie is kind of trying to be [i]Guess Who's On the Waterfront[/i]. They talk some about unions, and there is an implication that the unions may have a few dealings with organized crime themselves. It's certainly true that you pretty much have to pay your way into a job there, if Axel's experience is any indication. Though I think probably that, had he mentioned Tommy and not Malik at the front office, that would not have been the case. There is also a reaction shot of Malik which indicates that he is frankly stunned that anyone would choose to have what I guess we were still calling a Negro as their supervisor if they were white. The idea that Tommy would just be an easier man to work for because he isn't so blessed angry all the time didn't enter into it. He was black, and it's quite obvious that Malik can't get beyond the fact that, well, Sidney Poitier is black. Honestly, I found myself liking Tommy way better than I liked Axel, and that's not even just that Axel had a dumb name. I mean, you'd think if he were running around under an assumed name, he'd fix that. But I guess he was used to it. Anyway, one of the things Tommy does is pretend to himself, and one of the ways he befriends Axel is by sharing his daydreams. By letting Axel into them. He tells Axel that he owns some huge swath of Manhattan, but not to tell anyone, because it's a secret. And rather than assuming that he's simply nuts, Axel recognizes that Tommy is having fun and senses in Axel someone who will have fun along with him. This is a desirable kind of friend to have, if you are the kind of person who goes on imaginary sprees, and it's clear that Tommy knows that. He's also had the good luck to find Lucy, who is willing to play along with his games as well. To have a friend and a lover who will both agree that you own large swaths of Manhattan is to be rich indeed.
Edith Nelson
Edge of the City Quotes
There are no approved quotes yet for this movie.