Edge of Seventeen
(1999)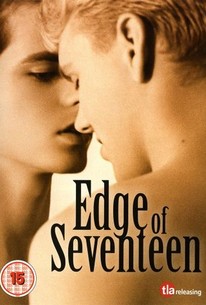 Movie Info
The year is 1984. The music is Boy George and the Bronski Beat. Eric and his best friend, Maggie, are on the edge of seventeen and donning matching polyester uniforms for their summer amusement-park cafeteria jobs in small-town Sandusky, Ohio. They learn the fine art of dishing up rib-chick combos and tater logs from their brassy boss, Angie. Maggie develops a special twinkle in her eye for Eric. Everything hums along until Eric see Rod, a gorgeous hunk with dreamy blue eyes, bussing tables. No one knows Eric is gay. Not Maggie. Not his mother. Not even Eric himself, really. In this refreshingly honest and exceptionally crafted first feature, the conflicts and confusions of teenage sexuality are a perfect match for the equally conflicted and confused 1980s. With a distinct sense of place and amazing performances by Chris Stafford, Tina Holmes, and Lea DeLaria, Edge of Seventeen is a remarkable achievement: a coming-of-age story that is sentimental without being cutsie, a powerful portrait of a family dealing with undesirable change, and an uncompromising depiction of the complexities of sexual experience, ranging from the heady romance of a first kiss to the messy realities of adult sex. A musical score by Tom Bailey of the Thompson Twins completes the film's dead-on portrait of the mideighties, complete with eyeliner, two-toned hair, and skinny ties. Edge of Seventeen is a must-see for all of us who survived the fashion disaster known as "the eighties."
People Who Like this movie also like
Critic Reviews for Edge of Seventeen
Audience Reviews for Edge of Seventeen
½
I'm a huge fan of gay romance (no idea why, I can't stand straight romance), but I didn't particularly like it. The acting was fine, and there was awesome music (Yazoo, Bronski Beat etc = yay), but it was just boring.
Lauren Donis
Super Reviewer
I really thought I was gonna hate this movie but I actually thought it was pretty good. A lot of the criticisms I noticed has to do with stupid choices that the Eric character makes but maybe they don't remember what it's like to be 17. He's pretty much an innocent dork that gets caught up in what he believes to be love but is actually just sex. From there it's a lot of confusion for him. Maybe it's not groundbreaking but the acting was pretty good for a low-budget gay movie. B+
Sunil Jawahir
Super Reviewer
Edge of Seventeen Quotes
There are no approved quotes yet for this movie.