Edgeplay: A Film About the Runaways
(2004)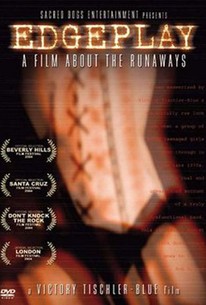 AUDIENCE SCORE
Critic Consensus: No consensus yet.
Movie Info
Years before the Go-Go's and the Bangles proved the commercial viability of all-female rock bands (and while Courtney Love was still in grade school), the Runaways were blazing new trails for women in rock & roll. Playing loud, swaggering hard rock which unapologetically dealt with sex, drugs, and wild living, the Runaways were seen as a novelty act by many when they released their first album in 1976; it wasn't until years later, after the solo success of band members Joan Jett and Lita Ford, that their importance and influence was widely recognized. Edgeplay: A Film About the Runaways is a documentary directed by Victory Tischler-Blue (who, as Vicki Blue, played bass with the group) which deals with the ups and downs of the band's career -- a story fraught with abusive management, sexual stereotyping, an uncomprehending record company, and a band of teenagers who were literally growing up on the road. A number of the group's better known songs do not appear in Edgeplay, due to the fact that Joan Jett refused to cooperate with the making of the film or allow her songs to be used on the soundtrack.
News & Interviews for Edgeplay: A Film About the Runaways
Critic Reviews for Edgeplay: A Film About the Runaways
There are no critic reviews yet for Edgeplay: A Film About the Runaways. Keep checking Rotten Tomatoes for updates!
Audience Reviews for Edgeplay: A Film About the Runaways
½
Edgeplay is one of the shoddiest, most poorly constructed documentaries I've seen. Victory Tischler-Blue seems more concerned with reminiscing and joking around with her old band-mates than asking interesting questions and probing for actual answers. There are numerous occasions in this film where she actually shows us band members telling her they will absolutely not talk about something. Why bother then? And where the hell is Joan? Not to mention the camerawork. At one point one of the girl's mothers starts crying onscreen, and the cameraman turns the camera on Sandy West. Tischler-Blue needs to point him back towards the mother. Meanwhile, a plane is flying overhead. What the fuck? That is not professional or compelling. It's distracting and amateur. I will say the first 30-45 minutes or so has some interesting information that fills in some of the gaps that Floria Sigismondi's film contained. Cherie Currie proves to be a mostly amiable and informative interviewee, although she does refuse to discuss certain topics. Kim Fowley also provides some interesting perspective, and I would have liked to have seen more of his footage. In the end, Edgeplay: A Film About The Runaways is worth watching ONLY if you want to know more about the band after having seen the 2010 film. It amounts to little more than a home movie of former band-mates and family members discussing parts of their past (with glaring omissions from nearly everyone, plus no Joan Jett). It's a bad film, with a few interesting tidbits of info thrown in.
Caleb McCandless
½
Pretty good documentary about the Runaways. A bit disturbing. It goes into a lot of the abuse of the manager. It was neat to see this after seeing the Runaways movie. I liked seeing the true accounts from the actual members. And they did a good job of putting the music throughout it. This documentary did need Joan Jett. Not sure why they didn't try harder to get an interview with her...
John Trifiletti
A good documentary of the band "The Runaways". It stands out since the members were around 16 when the band broke out. What does show business do to a under age group of woman? ...verbal/emotional/sexual abuse by their producer, drug abuse and conflicts between band members.
Jeff Heruth
Edgeplay: A Film About the Runaways Quotes
There are no approved quotes yet for this movie.
Discussion Forum
Discuss Edgeplay: A Film About the Runaways on our Movie forum!