Edie & Thea: A Very Long Engagement
(2009)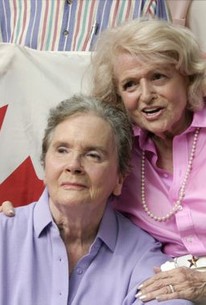 AUDIENCE SCORE
Critic Consensus: No consensus yet.
Edie & Thea: A Very Long Engagement Photos
Movie Info
Edie Windsor and Thea Spyer met in New York City's West Village in 1965, and for both of them, it was love at first sight, with Edie recalling that they danced so much on the night they met she wore a hole in the foot of her stocking. Edie and Thea were together for 42 years, and always wanted to get married, but in a time when living out of the closet was all but unheard of, the option simply didn't exist, and while that slowly began to change during their years together, it wasn't until Thea was diagnosed with multiple sclerosis and told she might only have a year to live that they began to take practical steps. In 2007, Edie and Thea traveled to Canada and were married in Toronto (where non-residents are allowed to have civil ceremonies), finally making good on the pledge they had made to one another decades before. Filmmakers Susan Muska and Greta Olafsdottir directed Edie and Thea: A Very Long Engagement, a warm and moving portrait of a couple who fell in love and stayed in love despite legal and societal misgivings. Edie and Thea was awarded "Best Documentary" honors at the 2009 Outfest, the Los Angeles Gay and Lesbian Film Festival.
Critic Reviews for Edie & Thea: A Very Long Engagement
All Critics (2) | Fresh (2) | Rotten (0)
While gay issues from Stonewall to same-sex marriage are worked into the mix, the success of the film stems from its makers creating a beautifully personal family atmosphere that welcomes everyone on both sides of the lens.

Audience Reviews for Edie & Thea: A Very Long Engagement
Very sweet and moving film looking back at the lives of two women in love and the steps that they needed to take in order to have them acknowledged as a married couple. All viewers surely will feel something meaningful here.
John Ballantine
Super Reviewer
½

As the years go by, that feeling of attraction stays the same. Each of us, in fact, looks different from how we looked when we met, but if I look to Edie now, she looks exactly the same to me. Exactly the same. And she will say the same thing the other way. Edith "Edie" Windsor grew up in Philadelphia, got married, moved to Baltimore, split up and took off to NY. Thea Spyer was born in Amsterdan in 1931, moved to England in order to escape from Nazism, immigrated to USA in the beginning of 40´s and moved to NY in 1950. Around 1962, they met at Portofino, a restaurant in the West Village where the lesbians used to go on Friday nights. Two years later, their relationship really began and it lasted forever. Like says the marriage vows, "until death us do depart": after 41 years together, in May 22, 2007, they went to Toronto, Canada, when they officially got married. Two years later, Thea died. If, as a "piece of art", Edie & Thea: A Very Long Engagement is below regular, as a documentary it is very good. It´also very important to marriage equality and every gay rights movement. If conscious campaigns are really necessary - and I think they are - stories like Edie and Thea´s should be used as a "flag". We can not ask for acceptance, but we have to ask for respect and equality*. Pride Parades don´t speak for me. Lady Gaga and alike, definitely do not speak for me. Instead of using such marketable figures and increase the mass consumer (un)culture, cases of real engagements should be shown in the big media. Unfortunately, they wouldn´t sell. How many heterosexual and religious couples can say a word about real love? How many had the strength and guts to love and take care of your partner like Edie did? Thea was diagnosed with advanced multiple sclerosis with 45 years old. With her body slowly deteriorating, she was put in a wheelchair. The couple adapted to new situation with humor and passion. Thea: If you came into this party and you didn´t know me at all and I was sitting there in that wheelchair, what would you do? Edie´s answer was great. Edie: "Oh shit! I had to fall for the one in the wheelchair". In any moment you doubt the veracity of their relationship or think it may be distorted by the cameras. Their love and caring is visible, almost touchable. There´s a true fondness in every hug, in every kiss, in the way they just look to each other. Luck? Soul mates? Who can say it? The fact is that they were able to build a relationship for a lifetime and that their life story is simply inspiring. Thea: I have the love of my life. I have the love of my life. That´s number one. And I am able to afford huge and modern (ward?) assistance. I have no pain and I have no cognitive deficiency. Put that all together, if you don´t make a life with all those things going for you, I would say that there´s something really very wrong. Edie: Keep joy as long as you can, ok? And if you have to solve problems, if that involves problems solving, than we do that. *"The words 'bride' and 'groom' are not existent in Canada anymore. We have 'spouse' and 'spouse'. Everybody is equal". Harvey Browstone, the first openly gay judge in Canada, who married them. **Edie "was a board member of Social Services and Advocacy for Gay, Lesbian, Bisexual and Transgender Elders, also known as SAGE, from 1985 to 1987 and from 2004 to 2006." Today, she is still a gay rights activist.


Rubia Carolina
Super Reviewer
Edie & Thea: A Very Long Engagement Quotes
There are no approved quotes yet for this movie.
Discussion Forum
Discuss Edie & Thea: A Very Long Engagement on our Movie forum!