The Edukators
(2005)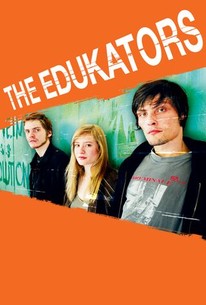 Movie Info
Jan, Peter and Jule are united by their passion to change the state of the world. Jan and Peter become "The Edukators," mysterious activists who non-violently warn the local rich their "days of plenty are numbered." Complications follow when vulnerable Jule ends up falling for both young men. An operation gone wrong and what was never intended to be a kidnapping brings the three young idealists face-to-face with the values of the generation in power.
Critic Reviews for The Edukators
Audience Reviews for The Edukators
½
Provocative! Is there a place for revolution within capatilistic society? Who is responsible for its ills? How can you change society without resorting to terrorism? Is hope for change merely youthful idealism? While the film raises many questions, it falls short on answers. The cast compensates for any directorial shortcomings, as the characters are sympathetic and well-acted. Stipe Erceg has 'cheekbones like geometery and eyes of sin.'
Stefanie C
Super Reviewer
½
A journey through moral dilemmas and political activism, this film has reached an instant high place within my favourite movies list and it subconsciously invites you to question your own morals which pulls you further into the story. With just a small cast, this was entertaining throughout and will no doubt be the first of many watches for me.
Lady D'arbanville
Super Reviewer
Likeable tale of idealistic youth colliding with aged reality. It drifts a bit towards the end but raises some thought provoking issues.
Gordon Anderson
Super Reviewer
The Edukators Quotes
There are no approved quotes yet for this movie.