Eega
(2012)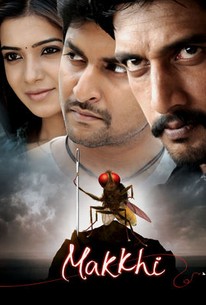 AUDIENCE SCORE
Critic Consensus: No consensus yet.
Movie Info
After being murdered, Sudeep is reincarnated as an ordinary housefly. In this form, he comically vows to take vengeance on his killer.
Critic Reviews for Eega
There are no critic reviews yet for Eega. Keep checking Rotten Tomatoes for updates!
Audience Reviews for Eega
½
Before Ant-Man, Bollywood's own Fly-Man (not a superhero) already zig-zagging it's way to please their crowd. The villain killed our hero over jealousy, and somehow he's reincarnated into common fly, and starts plotting for vengeance. Cheesy and silly, yet it's quite entertaining to watch a fly terrorized his enemy. CGI was not bad either...
Ben Huat
½
My Grading Scale: 100-90= Top-notch, must see (4.5/5 and 5/5) 80-90=Good Movie, guaranteed entertainment(4/5) 80-70=Some flaws, but still above average (3.25/5 and 3.75/5) 70-60=Strictly or slightly above average, missing major qualities (2.5/5-3/5) 60-50=Don't bother watching (0/5-2.25/5) Overall Score (94/100) Story: 10/10 - Novel and ridiculous and simple, but interweave revenge, love and obsession/villainism (Sudeep) skillfully with heartbreaking emotion - one of the best fantasy stories ever Theme/Entertainment Factor: 10/10 Powerful themes of love and revenge and reincarnation, while also playing out the archetype of heroism and winning underdogs with a love story and a cunning villain; all of these elements create a wildly entertaining and emotional flick Screenplay: 9/10- Tight and fast paced, juggles playful scenes and serious scenes very well while introducing important plot points with poise Characterizations/Acting: 9/10- Great characters, ranging from the best acting and portrayal of a villain ever (kudos to Sudeep), to a heartbroken lover (Samantha), to a playful, innocent man (Nani) that is reborn as a fly motivated by revenge Art Direction: 10/10- Excellent and beuatiful, whether it is a city, the villain's manor or even small scaled sets that the fly occupies Sound Design: 8/10- Dazzling sound, I recommend surround sound for home viewing Cinematography: 10/10- Masterful, audience members really see the world at small scales and travel through the film's universe as a fly Action: 10/10- Unique, creative, violent, maniacal, stylish all at the same time, audience members begin to empathize with a fly's motives to kill a man Songs: 8/10- Infrequent, but flow with the plot and entertain Background Music: 10/10- Powerful and emotional, great asset
bob bob
½
What can you really say about a film about a man that is murdered who is then reincarnated into a housefly. Once he's reincarnated he decides to get revenge on the person who killed him, because the woman the villain was lusting after was in love with our hero. It's about as silly as you can imagine. I will say, however, that, despite the film not being good or anything, Jani, the hero, driving the villain crazy with various antics was certainly amusing and sporadically funny. I will admit that there are certain scenes in the film that made me laugh. The problem with the film is, simply, that it just feels like a one-note experience. While there are a variety of ways that Jani fucks with the villain, it's not like there's much to the movie outside of this. Jani finally convinces his beloved that he is, in fact, a fly and she starts to contribute to his plan to kill the villain. But it's not like there's much other than that. You can't really build a romance between a human and a fly. I mean, I guess you could, but it's particularly difficult when there's no way the fly can speak. I guess they could have him speak, the fact that Jani reincarnates as a fly is already unbelievable enough. So, what the fuck, might as well have him speak? Thankfully this isn't one of those insufferable Bollywood films that lasts 3 1/2 hours. There's absolutely no way that I would've watched this film if it was over 3 hours long, there's just no fucking way. And, thankfully as well, there's only one segment where they sing and dance. There are songs spread throughout the film, but they're mostly the characters' thoughts instead of them actually breaking into a song a dance, which would have been silly. One of the things I didn't like was the bad sound design. It was actually downright terrible. Some of the characters would yell and it would feel like there my speakers were blown out. It's just downright terrible. The film started out entertainingly bad, I was actually laughing at its badness, but then, after Jani is reincarnated as a fly, it just stops being entertaining and becomes kind of a boring movie to watch. Again, while there are some amusing moments where the villain acts like a fool, it's pretty much 2 hours of a fairly uninteresting story. I suppose there's a certain sweetness to the ending with Jani showing that he would do absolutely anything for the woman he loves. But, of course, they ruin it by having Jani reincarnate into a fly a second time. It's also kind of a really stupid ending in the sense that Jani comes back in order to threaten a guy who's flirting with his beloved, whose name I forget. So, essentially, this woman is supposed to spend the rest of her life without pursuing any relationships because Jani won't allow it. What a selfish asshole. The acting is a little bit hammy, it's what's to be expected from this type of film. The writing is one-dimensional and uninteresting, there's no narrative to speak of, just a collection of hi-jinx. It's not a terrible film, and there are some amusing moments, but there's no way that a film with this thin of a concept should've been close to 2 hours. I wouldn't recommend this movie in the least. I mean there's some people that will enjoy this, but I just didn't like it that much.
Jesse Ortega
Super Reviewer
Eega Quotes
There are no approved quotes yet for this movie.
Discussion Forum
Discuss Eega on our Movie forum!