Eegah
(1962)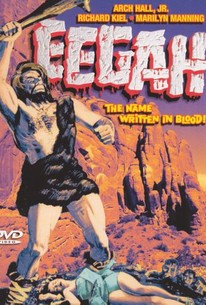 AUDIENCE SCORE
Critic Consensus: No consensus yet.
Movie Info
Considered by many to be one of the worst films ever made, Eegah! is the story of a gigantic Neanderthal who has managed to survive into modern times living in California's Mojave desert, and who falls in love with and kidnaps the teenage girl who discovered him in a cave. A handsome young man (Arch Hall, Jr., the director's teenage son) proves to be her savior and while he and his rock & roll band play, the police shoot the caveman to bits.
Audience Reviews for Eegah
This is a very underrated movie. Many reviewers do not seem to understand it. Roxy (Marilyn Manning) for instance is supposed to be a good, decent, good looking, "dingy" teenager of the early 1960's. She does a great job of portraying that. The scene where she comes to the swimming pool while Archie Hall Jr is singing is classic early 1960's and she is fabulous. Her silly questions and remonstrances out in the desert and in the cave with Eegah are those of an early 1960's good, decent, good looking, "dingy" teenager. This is a cult classic. Marilyn Manning, as far as I'm concerned, steals the show. Her reserved admiration for the poor ignorant cave man is just right. Give Eegah a break. It's entertaining and very reminiscent of the era. It was not meant to "Gone with the Wind" or "On the Waterfront". Come on! You have to have lived in the 1960's to appreciate it, I guess. Marilyn Manning is beautiful and talented. She deserves better! Give her a break!
Gaul William
½
Up till this time I have missed watching this so called cult film/ Made with Drive - Ins in mind I'm sure its not a bad film. I was amazed to see a very young Richard Kiel who played jaws in a number of James Bond Films. In this movie he was EEGAH the giant who basically scared only 3 people until last 20 minutes. Archie Hall Jr what a hair job, don't see that today. Also a beautiful ford station wagon made a number of appearances throughout the movie. 3 1/2 stars. 10-27-11
Bruce Bruce
Super Reviewer
How hilariously bad can a film get? Watch this and see.
Eegah Quotes
There are no approved quotes yet for this movie.
Discussion Forum
Discuss Eegah on our Movie forum!