The Egyptian
(1954)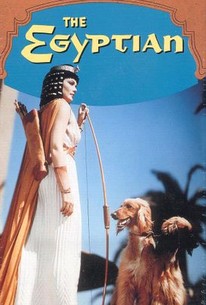 AUDIENCE SCORE
Critic Consensus: No consensus yet.
Movie Info
Based on the novel by Mika Waltari and helmed by Casablanca director Michael Curtiz, The Egyptian, a lavish period soaper, is set several centuries before the birth of Jesus Christ. Young Egyptian healer Sinuhe Edmund Purdom (ere accompanied by his servant, Kaptah, played by Peter Ustinov) draws the affection of barmaid Merit (Jean Simmons) who seeks his hand in marriage. Sinuhe provides medical assistance to the epileptic Pharoah, Akhnaton (Michael Wilding), who, meanwhile, becomes convinced that only one god exists, and thus infuriates all of his polytheistic priests, who secretly plot to assassinate him. Sinuhe has an affair with a Babylonian whore, Nefer (Bella Darvi), but grows listless with her and eventually ends the relationship, harkening back to Merit. However, she is soon extinguished, with an arrow through the heart, for also being monotheistic. Angered by this, and believing Akhnaton's ideas directly responsible for Merit's death, Sinuhe and his muscular friend, the affable Horemheb (screen heartthrob Victor Mature) poison the Pharoah. Akhnaton then dies while Horemheb prepares to ascend to the throne. Ingmar Bergman had a point when he admonished the idea of falling for one's lead actress, and it is a lesson one wishes producer Daryl Zanuck had learned; he purportedly had an extramarital affair with Darvi, taking her as a "plaything," but grew sick of her after casting her in seven films. Her career then torpedoed. (Little wonder - her horrendous performance in this film must be seen to be believed; Variety called it "less than believable or skilled.") This $4.2 million film (a massive amount for 1954) suffered from additional production problems as well, with Marlon Brando originally slated to star, but replaced, at the very last minute, by Purdom, a contract player for 20th Century-Fox.
Rating:
NR
Genre:
,
Directed By:
Written By:
In Theaters:
Runtime:
Studio:
20th Century Fox Film Corporation
Critic Reviews for The Egyptian
All Critics (2) | Fresh (0) | Rotten (2)
Lavishly produced by Zanuck, this big-budget historical epic is preposterously plotted and acted, though Shamroy's color cinematography is good.


Ozus' World Movie Reviews
Audience Reviews for The Egyptian
There are worse things than marriage. Sinuhe was an orphaned boy that was fortunate enough to receive an education and ultimately becomes the pharaoh's primary physician. It happens to be the pharaoh was Sinuhe's best friend growing up. They encounter numerous situations in working together, one that even may lead to the demise of the pharaoh. Best friends rule Egypt the best they can. "Soon the vultures and the jackals will make a poor meal of what is left of me." Michael Curtiz, director of Casablanca, The Adventures of Robin Hood, White Christmas, Mildred Pierce, The Breaking Point, Bright Leaf, and Dodge City, delivers The Egyptian. The storyline for this was a bit stale at times but contains fascinating scenarios and characters. The acting is fairly solid and the cast includes Jean Simmons, Gene Tierney, Victor Mature, John Carradine, Michael Wilding, and Henry Daniell. "Observe the mercy and wisdom of my master." I recently came across this on Turner Classic Movies (TCM) and had to DVR it since Michael Curtiz is one of my all time favorite directors. This may have been my least favorite project of his. It was still good in that I loved the characters, and some of the sub plots were well done, but the overall film was a bit more slow than I had hoped. Overall, I only recommend this to fans of the classics. "In the end, the sand conquers all." Grade: C+
Kevin Robbins
It is unique that this story is told from a doctors perspective in the fact that a doctor tends to interact with all sorts of kind of life. Therefore all aspects of life are seen in this film. It covers themes such as Egyptian religion, love, deception, greed, power, poverty, The physician is stupid in this film for handing over all his valuable possessions eventually even his own fathers land to a Babylon women who promises nothing and is greedy. It also presents different occupations within Egypt and ancient world such as slaves, servants, princes, Pharos, physicians, military leaders, those who barry the dead, cheese makers and more. This story presents rags from riches stories and back again. Disgusting things such as medical problems concerning Operations or fight scenes in this film are often presented not in detail but are suggested through shadows and sound effects, seen from the distance, or hidden behind objects. Land of Hittites with iron weapons that prove stronger than Egyptians cooper weapons. Mary had been in love with the physician resist her love till 3/4 of the film through. Mary is shot by the military by arrow for standing up for her Egyptain Gods. This films costumes, lighting, sets, and rich colors are all amazing. The cheese maker turns to work for the army after saving Pharaoh disguised as an ordinary bystander praying to the Egyptian sun god Ra from attacking lion, eventually promoted to head of the Egyptian military. Poisoned Pharaoh to become Pharaoh himself. He goes from best friend to physician, betrays his lover, and whiling to commit treason to preserve Egypt. The physician is told that he is the half brother to the pharaoh. He was left in a baby basket floated down the Nile River and adopted by a poor family. The servant to the doctor eventually bribes the soldiers with everything not to be killed. The Egyptian military kills all those who believe in the Egyptian Gods for they believe they are responsible for tough times. The problem I had with the film was how long the film is. It is like 2 hours and 30 minutes long. It could have been split up into two films rather than one long movie. The Pharaoh is purposely poisoned by drink to avoid a slow and painful death. The military leader is to become new Pharaoh. Only the sand will survive. The film is told from the Physician sent into excel.
STCENTERPRISE .
Creaky biblical balderdash with Jean Simmons as always giving a good performance and Peter Ustinov a fun one, everybody else is stiff. Curtiz, usually able to keep something like this going, provides a leaden pace.
The Egyptian Quotes
There are no approved quotes yet for this movie.
Discussion Forum
Discuss The Egyptian on our Movie forum!