Eichmann
(2010)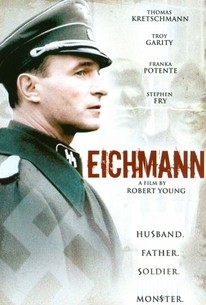 Movie Info
The man responsible for the destruction of more than six million lives accounts for his role as the architect of Adolf Hitler's final solution in this historical drama starring Stephen Fry, Franka Potente, and Thomas Kretschmann. Based on the final confession made by Adolf Eichmann just before his execution in Israel, director Robert Young's film begins 15 years after the World War II has ended. Eichmann has been captured by Israeli intelligence. As a senior officer in the SS, Eichmann played a pivotal role in making the Holocaust a nightmarish reality. Now, as Eichmann prepares to die in front of the entire world, he accounts for his participation in one of the greatest atrocities ever committed.
Rating:
NR
Genre:
Directed By:
Written By:
In Theaters:
On DVD:
Box Office:
$2,706.00
Runtime:
Studio:
News & Interviews for Eichmann
Critic Reviews for Eichmann
Audience Reviews for Eichmann
This film is a prime example of missing the point. Adolf Eichmann was responsible for organizing and running the Holocaust. He was a heartless bastrd and his subordinates had pretty well sold him up the river as soon as they got the chance. Everyone knew he was guilty as sin. Which makes the whole dramatic theme of the movie insane: that they needed to get him to admit to the murders or set him free. Eichmann admits from the start that he was in charge, but argues that he was just following orders, a defense already tried by dozens of deceased war criminals at the Nuremberg Trials. But apparently it's not enough to have just organized the largest genocide in human history. No, he has to have done it for evil reasons or he's a free man. Because apparently the crime of murdering millions of people is somehow less than the crime of being an anti-semite. In trying to turn him into more of a comic book supervillain they miss the entire point of Eichmann. He WAS just following orders. He was a dull petty-minded bureaucrat who was content to leave the moral decisions to his superiors. It's one of the scariest things about him. Crazy raving Hitler is easy to understand. But having the man in charge of so much murder kill not through a bottomless well of malice but through sheer indifference⦠well that's a harder thing to come to terms with. But instead they need to make him malicious, because simplifying villainy is the easiest way to not have to come to terms with the evil in all of us. To say that the final revelation that, gosh, maybe he wasn't so fond of the Jews after all, is a major anticlimax is understating the case. It should never have been an issue.
Stuart McCunn
Intense drama. The 7 month interogation of newly captured Eichmann reduced to 1hr. 40 minutes. I found the film engrossing but tough to sit through. And we all know the end, don't we? (hint: rope) SEE the official trailer here https://www.youtube.com/watch?v=5x0qnEZ0nWY [img]http://www.cinemotions.com/data/films/1115/76/1/affiche-Eichmann-2007-2.jpg[/img] Eichmann recounts events from his past to a young Israeli officer, Captain Avner Less (Troy Garity), who is faced with the immense task of tricking the skilled manipulator into self-incrimination. As mentioned at the end of the film in the credits by the interrogator, Capt. Less,.... kids or teens today barely know or are unaware of a Hitler or and Eichmann. The atrocites of the past are preventable, he believes, by "pure" democracy. [which the world has not seen since ancient Greece, btw. Today we have ' "representaive" democracies]. [img]https://encrypted-tbn2.gstatic.com/images?q=tbn:ANd9GcSq0i7KAOJqbc5vJmwZpOvCVmsY_P0T05JwvwSW2U0lg_ya_TND[/img] The then young Adolf Eichman, confident, cocky The film is well done, the dialect is at times hard to understand and the film constantly shifts from the past to the present, recalling events in Adolf Eichmann's ridiculouosly patriotic past as "just following orders". How ironic that this fellow, Eichamann, the greatest facilitator (he would not admit first person murder) of human misery short of Adolf Hitler himeself, should end up in modern day Israel to face justice. REVIEWS: 1 Mr. Kretschmann holds your attention through each whining complaint and bland denial. His character may be banal, but his portrayal is the only thing that keeps you watching. 2 Sincere, handsomely produced rendition of real-life encounter...amounts to an engaging drama seasoned by a dollop of soft-core titillation. 3 Eichmann is illuminating, comprehensive, richly detailed and timelessly important - but also ponderous. NOTES: 1 "Eichmann is a biographical film detailing the interrogation of Adolf Eichmann. Directed by Robert Young, the film stars Thomas Kretschmann as Eichmann and Troy Garity as Eichmann's Israeli interrogator, Avner Less. It was first released in Brazil in September 2007, and was released in the United States in October 2010"--wikipedia 2 As the film shrewdly points out, if Eichmann were deported to Germany, he would never be executed as modern Germany had no death penalty. 3 Released in Brazil, the film only grossed 2700 dollars. SEE the entire film here: http://www.youtube.com/watch?v=ASrZjRVjr6Y&list=PL943CDA52348692B5 CAST Thomas Kretschmann as Adolf Eichmann Troy Garity as Captain Avner Less Franka Potente as Vera Less Stephen Fry as Minister Tormer Delaine Yates as Miriam Fröhlich Tereza Srbova as Baroness Ingrid von Ihama Judit Viktor as Ann Marie Stephen Greif as Hans Lipmann [img]http://cdn1.tabletmag.com/wp-content/files_mf/1302198745et-stills-lead-380.jpg[/img] On trial, the real Adolf Eichmann Directed by Robert Young Written by Snoo Wilson Music by Richard Harvey Cinematography Michael Connor Editing by Saska Simpson Studio Regent Releasing Here! Films Distributed by Regent Releasing Release dates September 2007 (Brazil) Running time 100 minutes Country United Kingdom Box office $2,706 [img]http://content6.flixster.com/rtmovie/58/52/58524_gal.jpg[/img] The interrogator, standing. Eichmann, seated.
monsieur rick
Adolf Eichmann was one of the greatest criminals that history has ever known. He was responsible for the death of six million Jews. This film is a good film, but one that falls short of its potential due to its subject matter. I felt that although quite good, it lacked something to really make this film stand out. This is a well acted film that works well due to its subject, and if you're interested in the story, then this may be a film to watch. Eichmann concerns the trial and execution of Adolf Eichmann for crimes against humanity. The plot is well structured, but like I said, it should have been done a bit better because this trial was one of the biggest, most important trials in the history of the 20th century. Actor Thomas Kretschmann plays the titular role, and he is the saving grace of the film, and he makes you keep watching because his performance is intense and disturbing. The film is quite interesting but for its short runtime, I feel that the filmmakers rushed it a bit, and didn't offer a more elaborate in depth look at the Eichmann trial. For what we see here, it is good, but it does fall short of what this film could have been. The performances from the cast are what really save this film from being a total dud and the story is quite interesting of course, but if you want to know the full facts, read books on the subject and watch a few documentaries as well. This film offers an interest in that part of history, and it's something worth a watch due to the fact that these events were quite important and played a big part of bringing justice to one of the biggest crimes ever committed. For all its faults, it's thrilling to see the interrogation of Adolf Eichmann unfolding and more facts about his involvement arise and Eichmann gets exactly what he deserved. Overall imperfect, but with great performances, this one is worth seeing.
Eichmann Quotes
There are no approved quotes yet for this movie.