Eight Days a Week
(1997)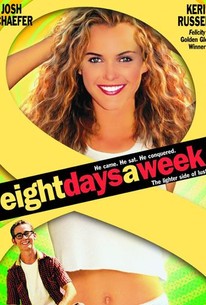 Movie Info
In this adolescent comedy, the beautiful Erica is the girl of young Peter's steamiest dreams. So moonstruck is Peter that he literally takes up residence in her yard. Every time Erica leaves the house, she is wearing a more provocative outfit, driving poor Peter to the brink of madness.
Critic Reviews for Eight Days a Week
Audience Reviews for Eight Days a Week
No vi el principio por lo que no puedo decir que me encantó desde el principio pero si me encanto, tiene un no se que que me fascino, es ilogica y rara subersiva seria una palabra que la describiria pero se quedaria corta pues su humor es loquisimo como los personajes y ¿De que trata? de un chico que acampa frente a la acera de la casa de su amada vecina por lo que ella solo tiene que abrir la ventana y verlo ahi todos los dias, pasan mas cosas pero seria arruinarles el proceso de disfrutarla
Josías Gutierrez
½
This seems like almost the original of crude humor movies/romance. It was funny and enjoyable. I would watch it again.
Meghan Shoemaker
Man, this is a weird film. EIGHT DAYS A WEEK (Michael Davis, 1997) is about a teenager (Joshua Schaefer) who decides to camp out underneath the balcony of the girl next door (Keri Russell), who he is in love with. His hope is that if he stays out there all summer, until she goes off to college, she will fall in love with him. Okay, if you stop reading this review here, I'm sure you would conclude that this is a bad film. I mean, let's be real: not only would this never work in real life, but it would probably get you arrested. Only a nerd would think this was a good idea and believe that it could send a girl any message besides "desperate, needy chump", or alternatively, "dangerously unhinged stalker". This whole premise is preposterous, and based on this alone, I never should have wasted my time watching this film. BUT… The thing is, this is the most incredibly well-written bad movie I've ever seen in my life! The dialogue is witty! The gags are pretty funny! The acting is good! The kids are charming! I've honestly never seen a bad idea executed so well. It's just bizarre! If this movie were about anything else, I probably would have said it was phenomenal. And yet, it has the worst premise for a film I have ever heard of, and somehow manages to work. The mind boggles. Joshua Schaefer's "Peter" is the type of kid who will grow up to be Woody Allen. He's far too clever for his age or this movie. A hopeless Romantic, he will never get what he wants. But his observations about life are spot on. Also, the setup of this film, of having the kid sit on his lawn and watch the neighborhood, and then think he sees somebody having been murdered (ala REAR WINDOW (Alfred Hitchcock, 1954) – yes, I'm comparing this film to REAR WINDOW) is ingenious too, if not original. It's a way to add visuals and humor to a story of a kid pretty much just sitting on some girl's lawn. It's a really well-constructed story, again, in spite of what it's about, and I was really impressed by that. Also, the humor is just clever, and not in a smug, cynical sort of way. It's really just funny, self-reflexive in one place, and just nicely written. It reminded me heavily of a movie I saw in like middle school called FROG (David Grossman, 1987), where a talking frog (!) helps a kid with his science project, and in the process get with a girl. Sweet, innocent, charming. It's like that. And that, in essence, is why it works: it's a teenpic written like a kid's movie. Despite having tons of raunchy, AMERICAN PIE (1999, Paul Weitz)-styled humor (though it predates that film), it's remarkably cute, to the point that we the audience, like the kid, do wish we lived in a world where his plan would work. And we all gave up on that dream back in the eighties. It's a nice throwback to that kind of film, but honestly, if it wasn't executed this well, it would go horribly wrong really quickly. What's even more bizarre is that this guy Michael Davis doesn't have that many credits, but he pulls off this movie like a master. Such a shame he hasn't done more. So again, while I can't rousingly endorse this movie because really, at the end of the day it's a film about a loser stalking the girl of his dreams, I can honestly say that I did like it. Just goes to show the power of good writing and directing conquers all, even a bad idea.
Aslum Khan
Eight Days a Week Quotes
There are no approved quotes yet for this movie.
Discussion Forum
Discuss Eight Days a Week on our Movie forum!