Eight Miles High!
(2008)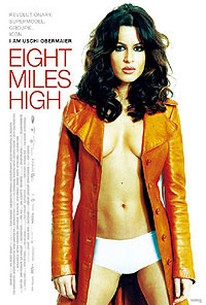 Movie Info
A Munich teen achieves worldwide fame as the embodiment of sexual freedom in the 1960s after romancing some of the biggest rock stars on the planet and rising to stardom as a successful supermodel in this biographical musical drama centering on the eventful life of Uschi Obermaier. Until she arrived at the legendary Berlin "Kommune 1," Obermaier (Natalia Avelon) was just your typical German teen. All of that would quickly change, however, as Obermaier entered into a heated affair with leader Rainer Langhans (Matthias Schweighofer), appeared on the covers of Playboy and Stern, and became an icon of the young generation. But even when offered the opportunity to become an international film star by Italian producer Carlo Ponti, Obermaier refuses to trade her freedom for fleeting fame. Later, after experiencing the darker side of fame during a relationship with Rolling Stones guitarist Keith Richards and realizing that she can no longer reconcile her outlook on life with living like a common groupie, the outspoken hippie nymph embarks on a quest to find eternal love with charismatic globe-trotter Dieter Bockhorn, the owner of Hamburg's red-light district.
Critic Reviews for Eight Miles High!
Audience Reviews for Eight Miles High!
In "Eight Miles High," Uschi Obermaier(Natalia Avelon) is discovered at a disco in Munich by a photographer in 1968. Her mother(Petra Berndt) is absolutely apoplectic when she finds the nude photos as she is worried what the neighbors will think. Uschi takes the opportunity to hit the road with her friend Sabine(Friederike Kempter) to Berlin where Commune1 is located. Sabine soon leaves but Uschi hooks up with Rainer(Matthias Schweighofer) to practice free love which makes it kind of hard for anybody to get any sleep. Things are rocky until somebody is stupid enough to make a bomb and the police show up.(Just a quick reminder. The guy at the meeting who wants to blow everyone up is always a cop.) Uschi and Rainer emerge from the mess unscathed and are invited to hang out with the Rolling Stones. Freely adapted from Uschi Obermaier's life story, "Eight Miles High" is not a good example of a biopic since Uschi is something of a historical footnote(a great looking footnote but still...) as a model and occasional actress who is probably of more interest to people in her native Germany. Since time immemorial, young people have wanted to escape their drab surroundings to have adventures and Uschi is no different. The movie does an admirable job of capturing her world, not condescending to the anarchists, while portraying her as a driving force that while challenging societal norms could be just as disruptive towards her friends and lovers. I'm just amazed the Rolling Stones survived her being with them.
Eight Miles High! Quotes
There are no approved quotes yet for this movie.