Einstein and Eddington
(2008)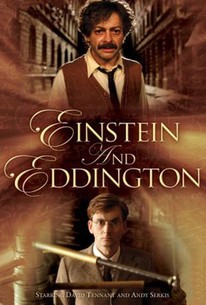 AUDIENCE SCORE
Critic Consensus: No consensus yet.
Einstein and Eddington Videos
Einstein and Eddington Photos
Movie Info
English astronomer Arthur Eddington and legendary physicist Albert Einstein remain devoted pen pals despite rising political tension between their home countries in the 1910s.
Rating:
PG
Genre:
, , ,
Directed By:
Written By:
In Theaters:
Runtime:
Studio:
HBO Films
Critic Reviews for Einstein and Eddington
All Critics (1) | Fresh (1) | Rotten (0)
Gollum and Dr. Who play the eponymous genius physicist and relatively-unknown astronomer, respectively, in the impeccably-made BBC docudrama "Einstein and Eddington."
Audience Reviews for Einstein and Eddington
½
Absorbing biopic. For history, drama, science fans the film itself can be absorbing but a bit slow to sit through. Set during WWI, the film shows the pressures on both Einstein and Eddington were enormous to conform to politics of the day. Shows the love lives of each man in their youth and pressures to conform to society engulfed in world war one. SEE the entire HBO film here: http://www.youtube.com/watch?v=BG2sDVjL1wg [img]http://upload.wikimedia.org/wikipedia/commons/thumb/7/78/Einstein1921_by_F_Schmutzer_4.jpg/220px-Einstein1921_by_F_Schmutzer_4.jpg[/img] Albert Einstein, who's understanding of gravity defied Sir Isaac Newton's works [img]http://upload.wikimedia.org/wikipedia/commons/thumb/2/24/Arthur_Stanley_Eddington.jpg/220px-Arthur_Stanley_Eddington.jpg[/img] Eddington, the English Quaker who believed in Einstein's work when nobody would An HBO historical drama depicting the two lives of scientists who rose above politics of the day to prove Einstein's General Theory of Relativity, the key to understanding gravity. [img]https://encrypted-tbn2.gstatic.com/images?q=tbn:ANd9GcTiM6gbK5Jmws0Ql9hW7Nj1aZy-263UNEL-7VG1FQUhcp6eTAVu[/img] Einstein right, Max Planck center Don't ask me to explain any of the physics portrayed in the film, but to see legend and elderly, German scientist Max Plank and Albert Einstein laying on the floor scribbling their equations on paper is a stretch. I suppose that is the way the public views genius' at work. [img]https://encrypted-tbn1.gstatic.com/images?q=tbn:ANd9GcT8Qq9av5ge_XWRk10cFCnzB97Y4wM6hS7ZC7TuvWdF6L-84iRG[/img] Einstein being barred from his work for not conforming to the German war effort REVIEWS by those like us: 80% To Brazilians, it's a little frustrating that the solar eclipse measurements made at Sobral are not mentioned. 70% well acted portrayal of the interface between Einstein and Eddington, whose solar eclipse observation of 1919 was confirmatory of Einstein's work. 60% This film discussed the theme of religion and science, and the finding of a balance between. Eddington is anti-war, believing in a Christian God and f... NOTES: 1 This is the story of Einstein's theory of general relativity, his relationship with Eddington and the introduction of this theory to the world, against the backdrop of the Great War. 2 Einstein is shown to stick his tongue out to the cameras of the journalists in this scene, but the actual iconic image was taken on his 72nd birthday in 1951, after he had emigrated to America. In Germany Albert Einstein - Andy Serkis Mileva Einstein - Lucy Cohu Elsa Einstein - Jodhi May Max Planck - Donald Sumpter Hans Einstein - Callum Williams Eduard Einstein - Jacob Theato Fritz Haber - Anton Lesser Leopold Koppel - John Bowe Aunt Fanny - Kika Markham Uncle Rudolf - Philip Whitchurch In Britain Arthur Eddington - David Tennant Sir Oliver Lodge - Jim Broadbent Winnifred Eddington - Rebecca Hall Frank Watson Dyson - Richard McCabe Librarian - Lucy Briers HH Turner - Paul Brooke Boy throwing stones - Oliver Hall William Marston - Patrick Kennedy Herr Müller - Christopher Campbell Frau Müller - Caroline Gruber Agnes Müller - Eleanor Tomlinson Initial release: November 23, 2008 Director: Philip Martin Running time: 90 minutes Screenplay: Peter Moffat Music composed by: Nicholas Hooper [img]http://2.bp.blogspot.com/_SFJBA0WPnaU/SSc85zd9osI/AAAAAAAAD_U/X02g-wjEc7k/s400/Einstein%2BAnd%2BEddington.PNG[/img]
monsieur rick
½
There were parts towards the end that were a little to corny for me to handle. Also, Andy Serkis's accent was confusing at times: British, German? Make up your mind! Other than that, though, it was enjoyable and informative.
Bonnie Sizer
I really hadn't a clue what to expect of this, but I found that I really quite liked it. And although there's nothing particularly amazing here, it's enjoyable for what it is. Too bad David Tennant and Andy Serkis didn't have any significant screen time together, though.
Rosemary Reeve
Einstein and Eddington Quotes
There are no approved quotes yet for this movie.