Ek Tha Tiger
(2012)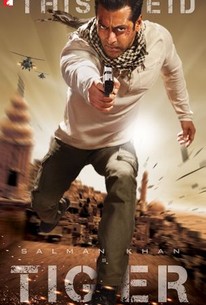 Ek Tha Tiger Videos
Ek Tha Tiger Photos
Movie Info
In the dark world of intelligence and espionage there are shadows without faces and faces without names. Governments fight shadow battles through these soldiers of the unknown. Battles have no rules, no limits. Nobody on the outside knows what goes on in these secret organizations. All information is guarded in the name of national security. But some stories escape the fiercely guarded classified files, stories that become legends. This is a film about one such story, a story that is spoken about only in hushed whispers, a story that shook the very foundation of this dark world. But like all reports that come out of this uncertain world, nobody will ever confirm those events. It may or may not have happened. -- (C) Official Site
Rating:
NR
Genre:
,
Directed By:
Written By:
In Theaters:
Runtime:
Studio:
Cast
Critic Reviews for Ek Tha Tiger
Audience Reviews for Ek Tha Tiger
'Ek Tha Tiger' (There once was a tiger) wins a game and loses another. In terms of being a 'Spy who loved me' story, it is more humane and more fun than many Bond movies, including the latest, Skyfall. It moves from Delhi-to-Dublin-Istanbul-to-Havana etc with decent grace, some action, and a lot of humor. No breathtaking roof-top motor cycle chases though, which was the main and only draw of Skyfall. But if it was trying to recreate the magic of 'Dabangg', it doesn't quite get there, even though it does make a good attempt at it. Quite commendable over all.
Sreedhar Kajeepeta
½
Ek tha Tiger (Hindi) - Lovely spies on the lam A maverick superstar riding "extremely" high on his recent successes and a production house that has more to boast than it's illustrious legacy. When these two powerful forces come together for the first time, one can't expect anything less than "onscreen fireworks" and "sheer magic". Salman is synonymous with Ramadan and one has to get a taste of his own "Eid release" along with the usual trappings of Haleem. Eid-ul-Fitr means breaking the fast for festivity and Salman has been creating/breaking records every consecutive Eid and there by adding his own zing to the festivity. Plot: Tiger / Manish Chandra / Avinash Singh Rathode (Salman Khan) is an undercover agent for Indian intelligence bureau RAW. Being the best espionage brain of the agency, Tiger juggles around the world battling down on evil forces. On one such "observatory" mission in Istanbul he comes across Zoya (Katrina Kaif) and his mind takes a backseat. Love is in the air until a shocking revelation about Zoya sets the stage for a wild goose chase between the couple and their respective posse. Who is Zoya? What is the revelation? How the lovely couple come across battling all the odds? - This is the crux of the film. Analysis: First half sets the stage for the entire plot but "love" between the leading pair dominates more than anything. Just when you feel the itch to jingle with your keys or to have a nap comes the interval block. From there on the film is an expected adrenaline rush with adequate doses of action, love, romance and sentiment. A first look in to the film's trailer projects itself as an action dominated film but predominantly it's a love story glazed with thrills and espionage. Superstar Salman Khan was his usual brawny best. His choice of films is commendable especially after "Wanted". He elevates every frame of the movie with his dominating screen presence. Be his bing bang introduction, legibly & sensibly underplayed love episodes, scenes demanding emotional quotient and the usual thrills and frills - Salman was at his best. His comic antics were supposed to be more tickling than hilarious and he managed this balance really well. He could surpass Kat's grace in each and every frame and wonder what the man does in his late 40's to look that way. He gets to bare his body just once and one cannot help but notice his toned down physique compared to his earlier films. This might have helped him look more swift and viral in the action episodes. Katrina Kaif does enough justice to her role but she could have emoted in a much better fashion. As a woman struggling between "farz" and "ishq" she was savvy enough but lots of unnecessary glycerine at the same time. Ranvir Shorey as Gopi and Girish Karnad as Shenoy are just about enough. Positives: Salman Khan, love between the duo and racy second half Negatives: First half lag in the name of love. Overall - one cannot expect more from an action thriller with usual doses of love and sentiment. The film might appeal to all classes of audience given it's romantic first half and action dazzling second half. Given the release timing the film might laugh it's way to the bank and we'll get to know more financials in the days to come. Tail piece: Salman has always been a lover boy in Bollywood but he kind of lost it in between for an extended period of time. Slowly, film by film, he's getting back to his pinnacle point and it's clearly visible in his script selection and their ensuing results (financially and otherwise). While Dabaang portrayed him as a rustic (both in love and action) and Bodyguard was more subtle - Ek Tha Tiger pushed him to be more pleasant. Usual commercial accoutrements are still intact for Salman Bhai.
Jack Lakkapragada
½
Painfully overrated. Positives: exotic visuals, action sequences Negatives: frivolous plot line and poorly written characters
Savraj Hothi
Discussion Forum
Discuss Ek Tha Tiger on our Movie forum!
News & Features