Eklavya
(2007)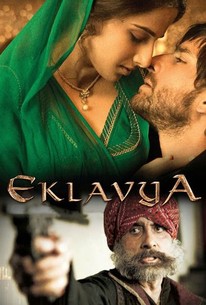 Movie Info
After a seven-year self-imposed exile from cinema, acclaimed filmmaker Vidhu Vinod Chopra returns to the director's chair for this tale about a Royal Guardsman and expert marksman whose loyalty to the crown is the stuff of legend. Eklavya (Amitabh Bachchan) lives for one reason and one reason only: to protect Devigarh at all costs. For nine generations, Eklavya's family has protected Rajasthan's centuries-old citadel, and Eklavya's staunch dedication has even inspired loving ballads by the people of the kingdom. Whether guarding the royals themselves or just their secrets, Eklavya could always be counted on to see his job through to the bitter end. These days, however, Eklavya is getting old and his eyesight is failing. Though royal heir Prince Harshwardhan (Saif Ali Khan) had once fled to London in hopes of escaping the suffocating customs of his land, the death of Rani Suhasinidevi (Sharmila Tagore) has now prompted him to return to Devigarh and embrace his true fate. As new royalty comes in and old loyalty clings to life, Devigarh is about to experience one of the most sizable shifts the kingdom has ever witnessed.
Critic Reviews for Eklavya
Audience Reviews for Eklavya
½
Here's an interesting movie about a young prince who is forced to return home after the death of his mother. He comes to terms with responsibilities and the truth about his real father. As he tries to put life back on track, he realizes that he needs his father more than ever despite that he is a servant, a royal guard to the king. For this father, a man who holds his duty sacred but also wishes to know his true children, Nandini and Harsh. Great cast- Saif Ali Khan, Amitabh Bachchan, Vidya Balan, Jackie Shroff, Jimmy Shergill, Sanjay Dutt, and Sharmila Tagore. Good music. Great movie by Vidhu Vinod Chora. Fantastic cinematography. Worth seeing!
½
This movie is impressive! I scowl at those people who have rated this yet do not have a geist of what theater or art is all about. A good cast, wonderful acting and a unique story. Majestic, classy, unique and a good mixture of the modern world and the old ways. Two thumbs up!!
Movie Quote:
"Eklavya was a low caste warrior of unsurpassable skills. When Eklavya outclassed the royal princes in the art of archery, the man he had idolized as his mentor, the great guru Dronacharya, asked of him a terrible gift in return for his tutelage: his right thumb"

Note: If youre gonna get this movie, get it with the subtitles or english translations. I assure you, Its worth it :)
Wow - another great Bollywood past MIX present flick with an AWESOME CAST - the legneds of the unites with some young guns to bring a mysterious movie about a Kingdoms's Royal Guard's devotion to duty and knowing that his time is cming to an end, so are the fragile secrets he has sworn to hide when the young Prince returns from London to face a crisis in his kingdom, which can shatter the peace and the history of the royalty. Its well paced and secretive drama - lots of twists and dark settings - an interesting and unique drama from the Bollywood norm. What a cast!! Big B is the pick of the bunch of course, with my personal fav Sanjay Dutt backing him up and veteran Jackie Sheroff making a good comeback. And Saif Ali Khan is one of the best in new talent today.
Eklavya Quotes
There are no approved quotes yet for this movie.