El Amor Brujo
(1986)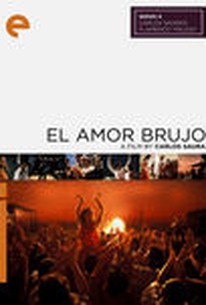 AUDIENCE SCORE
Critic Consensus: No consensus yet.
Movie Info
Set in Spain, this dance video tells the story of young lovers who are separated by fate, but alas, will reunite. Available in Spanish only.
Rating:
PG
Genre:
, , ,
Directed By:
In Theaters:
On DVD:
Runtime:
Studio:
Orion Classics
Critic Reviews for El Amor Brujo
All Critics (3) | Fresh (3) | Rotten (0)
Told in song and dance, this Spanish tragic love story was nominated for the Best Foreign Language Oscar.

with Gades's choreography, it is movement and not lyrics which advance the narrative

Spirituality and Practice
Audience Reviews for El Amor Brujo
Incredibly intense. Wonderful flamenco dancing and music. Powerful emotions portrayed. Love, passion, betrayal, ghost. This is a great work by Carlos Saura.
Alaine B
Unlike Blood Wedding, El Amor Brujo isn't so much a film about flamenco, but a melodrama that is bolstered by the passionate music. I know next to nothing about the style, but even with my untrained eye, the cast is full of consummate professionals. As expected, most of the film's highlights revolve around the musical sequences. The initial fight, a nighttime fire sequence and a women's only number were among the high points. While not superfluous, when the standard dramatic scenes take place,you find yourself hoping that the music will resume as quickly as possible. Some may dislike the intentional theatricality, but it works for the material and is an obvious extension of Saura's earlier work. I was somewhat put off by how obviously of the 80s everything was. Blood Wedding was made only a few years before and has that timeless, traditional flamenco feel. Which you prefer is a personal choice, but I often wondered if the film would date better without all of the hair and clothes. I hoped to watch this one after seeing his take on Carmen, but 2 months after the release of the Eclipse set, Netflix still has it on a very long wait. Maybe I'll revise this one day.
Richard Stracke
Okay, technically, this should be the last review of Carlos Saura's Flamenco trilogy because I had all these supports in the other films why this movie only gets three stars. But since Flixster has yet to add them, I suppose that I must review them without the support of the other two movies. Blood Wedding and Carmen all build up to this movie. Blood Wedding is a fairly traditional theatre experience while Carmen uses the theatre world to tell a fictional story. El Amor Brujo is just a fictional melodrama. That's okay, but it does somewhat crawl over the course of an hour-45. While I appreciate a good romantic ghost story, the dancing in this film both add and detract from the emotional intensity. We see very little character development compared to Carmen, which incorporates dance into the personal battle that rages inside the director's soul. What is very impressive about Amor is the visuals. It is a very stagey-feel and the movie really embraces the surreal world that these characters dance in. There is also an extremely odd transition in this movie. After Antonio Gades's character returns from prison after being mistaken for the killer (how? I don't know), life simply continues on. If I hadn't read the plot summary, I would have been completely lost until well into the next discussion. Maybe it's because I'm an idiot, but that's how I felt. But again, the dancing is fantastic. If you are looking for a loose story with fantastic flamenco dancing, this movie will do it for you. If you are looking for real, in-depth substance...perhaps this isn't the place to go.
Tim Hruszkewycz
El Amor Brujo Quotes
There are no approved quotes yet for this movie.