El Gringo
(2012)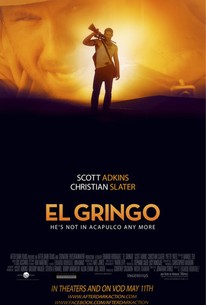 AUDIENCE SCORE
Critic Consensus: No consensus yet.
Movie Info
In El Gringo, The Man (Adkins) crosses into Mexico with a satchel of $2,000,000, cash, a bloody past, and a plan to live out his remaining days on a beach. Instead, he gets stuck waiting for a bus in El Fronteras, a sleepy desert town that's so uninviting that - forget about the ocean - he can hardly find a glass of water. Then, word of his money spreads to the El Fronteras underworld. Under sudden attack from corrupt cops, gangsters, and desperados, the Man must push back his retirement plans, lock and load, and save sleepy El Fronteras through a dizzying display of spectacular gunfights. -- (C) After Dark Films
Rating:
R (for bloody violence, language and some sexuality)
Genre:
Directed By:
Written By:
In Theaters:
On DVD:
Runtime:
Studio:
Critic Reviews for El Gringo
There are no critic reviews yet for El Gringo. Keep checking Rotten Tomatoes for updates!
Audience Reviews for El Gringo
½
One of many straight to DVD films that Scott Adkins has churned out in between the odd big movie. This film seems to have gone down a few routes here, firstly its clearly a nod to classic Clint Eastwood 'the man with no name' films, there is a strong Mexican style spaghetti western vibe here. Secondly its clearly a Tarantino/Robert Rodriguez wannabe flick, the editing and general style is obvious. Thirdly it could be seen as a film project by Adkins to try and prove he's up and ready for a role in the next violent Tarantino/Rodriguez flick, cast me! cast me! And lastly it might just be a simple homage to all of the above, but I doubt that, riding on the coattails probably. In all honesty its not a bad film but its not good either. We spend the first ten minutes of the film watching Adkins trying to get a drink of water from all the local oddballs in town. Then we spend another ten minutes or so watching this really annoying young girl trying to steal Adkins bag of cash. This happens not once but numerous times, its annoying, time wasting, for Christ's sake just look after your flippin' bag dude! Most of the film is forgettable except for one gun battle sequence slap bang in the middle. I can't deny I was impressed with this, it was awesome! spectacular in its bloody bullets to the head violence. A touch of kickboxing from Adkins but mainly a rollicking gun fest as he pops bullets in a stream of bad guys whilst running around tight squalid alleyways. It is a real adrenaline rush I kid you not, lots of bloody squibs and absurdity as he takes out blokes with a shotgun that are well out of range I'm sure. The whole sequence plays out like a Call of Duty online game actually, visually it has that frantic wham-bam feel plus Adkins goes around picking up weapons from guys he's just taken out, one after another. The other CoD inspiration if you ask me is that all the bad guys have this gangland war paint on their faces in the form of a simple skull motif. Their faces are white with black around the eyes and cheekbones giving that CoD: Ghosts appearance. The main bad guy looks the best of course, he also looks like a young Raul Julia too. It is a bit of a shameful artistic and stylistic rip off from various other sources but it still manages to hold together. Adkins isn't the best actor on the block by any means but he's a good action star as we know and his fights get more impressive with each film. The finale to this film is pretty damn awful I won't lie, it builds up to something massive but ends up a wet squib, very disappointing. Other than that I recommend watching for the gun battle midway through, its worth it, just try not to have an epileptic fit with all the flashy quick fire cuts and editing.
Phil Hubbs
Super Reviewer
½
A stylized, and fairly stylish, action film. Decent action, exaggeratedly unrealistic fight scenes, spurts of blood that are equally unrealistic exaggerations, stereotypical cardboard characters, demonstrations of the stupidity and ineffectiveness of both the War on Drugs and "border security", all combine to make this a fine guilty pleasure type entertainment. It was fun to watch and might be worth watching again some day.
David Duncan
It`s Desperado meets No Country For Old Men. A sizzling, awesome and explosive blast filled with style, wit, suspense, grittiness and spectacular gunfights that will blow you out of your seat. A wickedly entertaining and hard-boiled blast from start to finish. A red-hot, blisteringly cool and exhilarating action-packed thriller. It`s strong, capable and seriously bad ass. Scott Adkins is terrific, he has the charisma, skills and extremely piercing stair that make him the ideal action hero with the like of Jason Statham and Bruce Willis. Adkins is raw and sensational, he just gets better. Christian Slater is terrific. Director, Eduardo Rodriguez crafts a fun, bloody and utterly fearless action movie that delivers the goods with its compelling story and strong characters. A full-throttle and adrenaline-charged action thrill-ride that's fast, brutally funny and has a high body count. A stylistic and intense western on steroids.
El Gringo Quotes
There are no approved quotes yet for this movie.
Discussion Forum
Discuss El Gringo on our Movie forum!