El Jorobado de la Morgue (The Hunchback of the Rue Morgue)
(1973)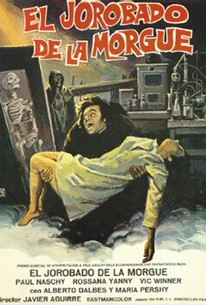 AUDIENCE SCORE
Critic Consensus: No consensus yet.
Movie Info
One of the more notorious Spanish exercises in gory horror, this film from Basque director Javier Aguirre stars Jacinto Molina (aka "Paul Naschy") as a hunchbacked Swiss morgue attendant named Gotho. He's in love with a woman who dies of tuberculosis, causing Gotho to grab an axe and chop up some medical students who want to dissect her then hide her body in a dank crypt. A hallucination scene featuring the woman's body being eaten by rats while Gotho beats and burns them featured real rats, who bit Molina several times. Eventually, Gotho strikes a bargain with mad scientist Alberto Dalbes, who agrees to raise the hunchback's beloved from the dead in exchange for fresh corpses from the morgue to feed his monstrous blob-like creation. Rossana Yanni appears as an imprisoned psychiatrist, and the film co-stars Maria Perschy and Vic Winner ~ Robert Firsching, Rovi
Rating:
R
Genre:
,
Directed By:
Written By:
In Theaters:
On DVD:
Runtime:
Critic Reviews for El Jorobado de la Morgue (The Hunchback of the Rue Morgue)
There are no critic reviews yet for El Jorobado de la Morgue (The Hunchback of the Rue Morgue). Keep checking Rotten Tomatoes for updates!
Audience Reviews for El Jorobado de la Morgue (The Hunchback of the Rue Morgue)
½
Somewhere in Germany, a sickly girl named Ilse is dying and her childhood friend, a hunchback named Gotho, is pining over her demise, keeping her company and defending her from insensitive hospital staff. When she dies, Gotho steals her body and brings it to the mad Dr. Orla who promises that he can "make a new Ilse" if Gotho will agree to supply warm bodies for the snacking purposes of a monster he's working on. Gotho does, of course, and much fun ensues. I do mean fun, too. Paul Naschy is at his best as Gotho, and the mad scientist is truly mad and so archly stereotypical that you can't help but love the guy, even when he's got Gotho pushing people into a pit full of sulfuric acid on his behalf. For much of the film, the monster is either unseen or looks like a meat balloon at first, and then like a canister full of sausage and pantyhose later on. There's even a tie-in to HP Lovecraft thrown into the mix; Dr. Orla mentions that one of his inspirations for his work is the Necronomicon and that his monster is one of the Old Ones returned to earth. What's not to like? For an intellectually-challenged hunchback, Gotho does surprisingly well with the ladies. Perhaps it's because he looks quite a bit like John Belushi from a distance. For a B-movie, the acting is pretty good. The story is a by-the-numbers affair, which one would have to expect from a mad-scientist-and-his-hunchback-assistant flick, but the cinematography is actually quite good in much of the film and the sets are so deliciously cheezy that I defy any veteran of b-horror not to applaud when he sees the mad scientist's subterranean lair. He even gets kicked out of the academy. Perfect! The downside, though, is the film's utter predictability. It takes no risks, so educated viewers will see what's coming before the opening credits have finished rolling. Still, this one is worth a watch. It's "Frankenstein" meets "Re-Animator" meets a veritable textbook of pseudoscientific gibberish. The mournful acting by Paul Naschy begs the obvious question... would you like a little whine with your cheez? Camp horror fans will eat this one up!
Brian Seitzman
Hunchback of the Morgue (1973) Long unavailable on net flix new this week 01/12/10 Paul Naschy plays a hunchback with below average intelligence who works at the morgue. He is in love with a sickly girl who happens to be the only person who is kind to him. Each day he brings her flowers until the day she dies. He never really accepts her death and believes she is just sleeping. The girl eventually ends up at the morgue where she is being prepared for burial. Naschy's character flips out at the desecration of the girls body and stabs and decapitates the men in the only scene of gore in the movie. The police begin to look for him. This is when the Hunchback meets up with a mad scientist whose work isn't accepted by the general society. The scientist promises the Hunchback that he would re-animate the girl's body if the Hunchback brings him fresh bodyparts from the graveyard and live victims. He uses the parts to create a monster. Paul Naschy made a lot of Spanish horror films and The Rue Morgue Massacre is certainly one of his better films. Paul Naschy plays Wolfgang Gotho,a hunchback who supplies corpses to a doctor in his hidden underground morgue. The Doctor then feeds the rotted flesh to his creation of a living head attached to a tank full of guts. Gotho supplies corpses to the doctor in exchange for the promise that the doctor will restore life to the cadaver of his dead lover. This is surely Paul Naschy's best character role which won him awards at the Paris fantastic cinema convention in 1973. It is not that gory but still lots of body parts corpses and dark nasty atmosphere. This is an old-fashioned B type horror flick. The locations set (the catacombs) give us plenty of Gothic atmosphere. Paul Naschy is Spain's version of Lon Chaney. He was Spain's premiere horror exploitation director. Really this is a horror thrill ride that almost goes over the top. For the cult horror fans this film should be good.!!
dfw foreignbuff
A Paul Naschy starring masterpiece. Great gore effects and a nice twist on the hunchback story. Though there seems to be room for a little character development believe it or not but it falls a little short but that doesn't really matter does it?
Sean N
El Jorobado de la Morgue (The Hunchback of the Rue Morgue) Quotes
There are no approved quotes yet for this movie.
Discussion Forum
Discuss El Jorobado de la Morgue (The Hunchback of the Rue Morgue) on our Movie forum!