El Nino Pez (The Fish Child)
(2009)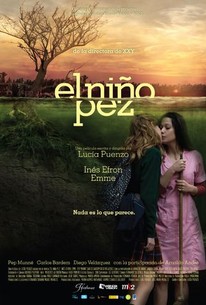 Movie Info
Writer-director Lucía Puenzo follows up her feature debut, the festival favorite XXY, with The Fish Child, a romantic crime drama adapted from her novel of the same name. Lala (Inés Efron, who also starred in XXY) is an Argentinean girl from a wealthy family. She's desperately in love with the family's young live-in maid, La Guayi (singer Mariela Vitale, making her feature-film debut), and she's jealous of La Guayi's many other admirers. When Lala's politically active father, Bronté (Pep Munné), dies under mysterious circumstances, she runs off to La Guayi's remote hometown in Paraguay, hoping that her lover will follow. There, she uncovers the truth about La Guayi's sordid past, and the maid's troubled relationship with her own father, a telenovela star named Sócrates (real-life Paraguayan soap star Arnaldo André). Lala also explores the local legend of "The Fish Child." Meanwhile, La Guayi is imprisoned for her suspected involvement in Bronté's death, and when Lala finds out, she jeopardizes her own freedom by returning home. In Puenzo's novel, written when she was just 23 years old, the story is told from the point-of-view of Lala's family dog. The film features an appearance by the Paraguayan musical group the Potrankos. The Fish Child had its North American premiere at the 2009 Tribeca Film Festival, where it was shown in the World Narrative Competition.
Critic Reviews for El Nino Pez (The Fish Child)
Audience Reviews for El Nino Pez (The Fish Child)
A dark, erotically charged tale of adolescent obsession involving a young woman and her live-in maid. The emotions were raw and unfiltered, and only towards the end did the script begin to test ones incredulity. Until then, the film took us ever deeper into the psychology of a young girl's first love and her attempts at dealing with jealousy when others find the maid, La Guayi, attractive. This is the second film this viewer has seen by this talented Argentinian director, and both have starred the same young actor, Inés Efron. Lucia Puenzo has revealed herself as a skillful director, able to evoke complex layers from what could have been a simple story of love, betrayal, and tragedy.
Mark Abell
Super Reviewer
Lucía Puenzo's second effort is original, taunt and full of passion. Artfully crafted and wonderfully acted, El Nino Pez deserves a lot more attention than it's getting.
Randy Tippy
Super Reviewer
Since I saw this at a film festival, in between two truly great films, I might have been just too tired and overwhelmed to appreciate this fully. I found the movie to be too disjointed and confusing at times, will rewatch too offer a more detailed critique.
El Nino Pez (The Fish Child) Quotes
There are no approved quotes yet for this movie.