Superman
(1942)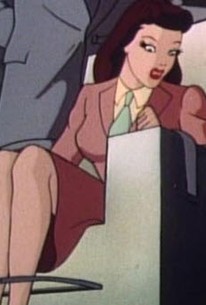 AUDIENCE SCORE
Critic Consensus: No consensus yet.
Movie Info
As Electronic Earthquake opens, the viewer sees a strange cable that flows into the harbor near Metropolis. The cable slinks along the harbor to the underwater lair of a brilliant Native American scientist. The scientist visits the Daily Planet, where he demands that Metropolis be returned to his people, who settled there long ago. Editor Perry White refuses to print the scientist's demand, at which point the scientist tells him that he will destroy the city if his demand is not met. He returns to his secret lab, followed by Lois Lane, who smells a good story. Unfortunately, Lois is discovered and captured, and the scientist proceeds with his plan. Utilizing his cable, he sends enormous surges of electricity under the ground, triggering a terrific earthquake. Superman finds the source of the earthquake and breaks the main cable, then begins dismantling various other cables from the lab. This unfortunately causes the lab to start flooding. Superman saves Lois in the nick of time, and succeeds in capturing the evil scientist as well.
Rating:
NR
Genre:
Directed By:
Written By:
Runtime:
Critic Reviews for Superman
There are no critic reviews yet for Superman. Keep checking Rotten Tomatoes for updates!
Audience Reviews for Superman
½
The title should say Electric Earthquake. A righteous Native American seeks revenge for white settlers taking his people's land. With high powered equipment off the coast of Manhattan he plans to start an earthquake from the seabed to make the whole island crumble. Electrical wires seem to come alive like tentacles to make Superman's race against the clock more difficult.
Byron Brubaker
Super Reviewer
½
Fleischer Studios continue the high level of quality in their Superman work with this short, about a madman Native American fellow, who believes Manhattan rightfully belongs to his people, and since the plenty of people living there won't leave on their own accord, he decides to create big electric shocks that cause a major earthquake. It's a crazy idea, but it is an enjoyable short. I also want to point out that despite a minority as the villain, I don't think his character is portrayed racistly, sometimes you see these old cartoons and things look so different with the element of time...but I think the villain was just a villain, no different than the white mad scientists that had previously been in the Superman shorts. That was nice. Unfortunately when Supes gets to Famous Studios, the shorts get all Anti-Jap Propaganda on us.
Ken Scheck
Discussion Forum
Discuss Superman on our Movie forum!