Electronic Labyrinth THX 1138 4EB
(1967)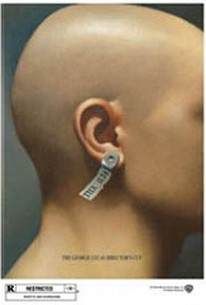 AUDIENCE SCORE
Critic Consensus: No consensus yet.
Movie Info
The short student film that served as the springboard for George Lucas' first feature, THX 1138:4EB is a spare, stark examination of a future dystopia in which one man fights to maintain his identity under the watchful eye of an Orwellian state. Starring Dan Natchsheim in the role that would later be played by Robert Duvall, the dialogue-free film involves the various modes of surveillance levied on the titular lead character, and his numerous attempts at escape.
Critic Reviews for Electronic Labyrinth THX 1138 4EB
There are no critic reviews yet for Electronic Labyrinth THX 1138 4EB. Keep checking Rotten Tomatoes for updates!
Audience Reviews for Electronic Labyrinth THX 1138 4EB
its like a guy running around all scared and stuff with these smart people on headsets saying a bunch of numbers so they can sound intelligent or whatever. i don't get it. i mean, maybe if there was some shooting or if THX had a whip or a chainsaw then it would make more sense. but i guess he wouldn't be able to run as good, cause chainsaws are kind of heavy. but then, you know, he wouldn't really need to run. it would be the smart headset people running from him. but instead there are no weapons and its not in 3D so i just get the feeling of being in math class again.
Coxxie Mild Sauce
Super Reviewer
½
Would have been better if I hadn't watched the visual magnificence of the feature version immediately prior.
½
In the late 1960's, Hollywood was starting to go downhill. Movies were being made to please an older audience and not branch out towards a younger audience and just get more people. It was in California that the revolution would take place. This student film was one of the starting points in the right direction. A young man attending USC by the name of George Lucas made a little film that would change his life and others around him. He called it Elecrtic Labyrinth THX 1138 4EB. It is only 15 minutes long but it gets across a message that was just right for the time. That rebel yell that the people were waiting to scream out. To rise up against authority. This film was the launch pad for Lucas and his career as a film maker. Electric Labyrinth is about one man's escape from the grip of oppression in a futuristic society. He and everyone else it seems is under surveillance and the only way to get out is to run. THX 1138 is the name or title of the man on the run. Although the movie is short, it seems like we connect to the person. We all feel like just running away sometimes. Although we don't know much about the man, we feel for him. All attempts at stopping his man seem futile. They can dish out anything, but little can stop the determination of someone. This is what would spawn a feature length production of the film starring Robert Duvall as THX 1138 and also would help Lucas on his way to directing bigger things like American Graffiti and what would make him a house hold name...Star Wars. In 15 minutes Lucas was able to shock the cinema world and help change the industry to what we see it as today. This little project would lead to advances in movie making, editing, and overall appeal of a movie. Lucas, Francis Ford Coppola, Steven Spielberg, Martin Scorcese, and many more were part of the revolution in cinema that would bring people back to the theaters.
Cassandra Maples
Super Reviewer
Electronic Labyrinth THX 1138 4EB Quotes
There are no approved quotes yet for this movie.