Elena Undone
(2010)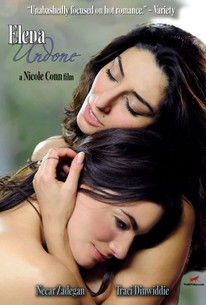 AUDIENCE SCORE
Critic Consensus: No consensus yet.
Elena Undone Videos
Elena Undone Photos
Movie Info
A wife and mother finds true love in an unexpected place in this independent romantic drama from filmmaker Nicole Conn. Elena (Necar Zadegan) is the wife of Barry (Gary Weeks) and the mother of a teenage son, Nash (Connor Kramme). Barry is a pastor who has been active in a local campaign to prevent the legalization of same-sex marriage; while Barry speaks with vigor against gays, he's prompted more by the whims of well-to-do members of the congregation than his own feelings, and Elena is quietly appalled by his actions. Barry is also eager to have another child while Elena is not, adding to the emotional gulf between them. While seeing a relationship therapist, Elena meets Peyton (Traci Dinwiddie), a successful writer whose work deals with her struggle to overcome agoraphobia. Elena is an accomplished photographer, and when Peyton asks if she'd like to contribute pictures to an upcoming project, she immediately agrees. As Elena spends more time with Peyton, she becomes aware that her new friend is a lesbian, and their mutual admiration gives way to deeper feelings. Elena realizes she's fallen in love with Peyton, and must decide if she should end her loveless marriage to pursue a relationship that is entirely new to her; Peyton, meanwhile, has fallen for Elena, but has just gotten out of a failing relationship and isn't sure she can start a new romance so soon. Elena Undone was an official selection at the 2010 San Francisco International LGBT Film Festival.
Rating:
NR
Genre:
,
Directed By:
Written By:
In Theaters:
On DVD:
Runtime:
Studio:
Cast
Critic Reviews for Elena Undone
All Critics (2) | Top Critics (1) | Fresh (1) | Rotten (1)
Tale of two Angelenos succumbing to mutual passion under difficult circumstances is enjoyable if unsubtle in its first half, then takes a long time stumbling toward an inevitable conclusion in the second.
Audience Reviews for Elena Undone
Tale of two Angelenos succumbing to mutual passion under difficult circumstances is enjoyable if unsubtle in its first half, then takes a long time stumbling toward an inevitable conclusion in the second.
Lee Mayo
Elena Undone (Nicole Conn, 2010) Elena Undone is known, mostly, for one thing-the kiss. The three minute and twenty-four-second kiss [http://www.afterellen.com/blog/karmankregloe/elena-undone-breaks-the-record-for-longest-movie-kiss] that broke the longest-onscreen-kiss record (three minutes and six seconds, You're in the Army Now, 1941). And let me rush to add before saying anything else that yeah, it is absolutely worth all the buzz. My oh my. But there's something I think it should be known for even more, and I was going to make it the subject of the opening paragraph (obviously), but then I realized it's kind of a spoiler, so I'll stick the plot synopsis on top of it and then, for those of you reading this in a place where it will have graphics, put up that big-ass "spoiler alert!" stop sign and you can figure out whether you want to continue reading. For the no-spoiler or short-attention-span crowds: I am recommending this, but with some reservations. Plot: Elena (Necar Zadegan, recently of Meth Head) is the wife of a pastor who's not quite sure what he believes-at the beginning of the film he seems to be a kind of laid-back guy, actually, but as one character wryly observes about halfway through the movie, psychotically-orthodox-religious Millie (Gone's Erin Carufel) is the church's biggest contributor, and so if Pastor Barry (Deadland's Gary Weeks) wants his church to stay afloat, he's got to adopt the same fire-and-brinstone attitude. Their marriage seems to be a solid one, though they have the usual problems with a teenaged son, Nash (Connor Kramme, who seems to have hung up the acting gig to go behind the camera). And honestly, you can't call these folks a traditional family; Nash's girlfriend Tori (Beautiful Dreamer's Sabrina Fuster) lives with them; there are a couple of hints as to why this is, but it is never explicitly stated that I can remember. In any case, Elena and Barry have a friend from college named Tyler (Broadway actor Sam Harris, who won the very first season of Star Search back in the eighties), who dabbles in a little of everything to make money; one of the movie's conceits is that it cuts regularly to footage from a relationship video Tyler is editing (this starts off being kind of annoying, but by the end of the movie I was loving it). He also does psychic readings, and it is at one of Tyler's psychic-reading parties that Elena runs into Peyton (The Notebook's Traci Dinwiddie), an acquaintance Elena knows through the adoption agency where both of them have been feeling out the idea of adopting children-Elena because she and Barry may be having fertility problems, Peyton because she's a lesbian and isn't interested in going the "traditional" way when it comes to having a kid (she mentions early in the film she was previously married, and the expression on her face at the time should tell you all you need to know there). The two of them strike up a business relationship, but Elena quickly realizes that she has feelings geared toward turning it into something more... Okay, while the longest-onscreen-kiss thing is already kind of a spoiler, I'll stick up the spoiler alter stop sign here in case you don't want to know any more. Quit reading! But like I said, I think the movie deserves equally to be known for the orgasm. Why? Because I can't believe that Conn is unaware of Kirby Dick's fantastic documentary This Film Is Not Yet Rated, one sequence of which contains fairly damning evidence that one of the things the MPAA absolutely refuses to tolerate in a R-rated movie is the face of a woman having an orgasm. (It is the clips in that segment of the documentary that got the film rated NC-17, lending additional credence to this position.) And, well, let's say Traci Dinwiddie is either really good at faking, or that was really an orgasm. Needless to say, the movie was released unrated (it was never submitted for rating in the first place), and I can't help but see that scene as a poke in the eye to the MPAA. A much-deserved one, I might add. (The one country IMDB reports the film as being rated in is The Netherlands, and there it is considered suitable for those 12 years of age or older. That is extremely telling about the idiocy of American morality.) So okay, enough about sex. What about the rest of the movie? (Though honestly, the sex is probably enough for me to say "you should see this movie, it'll turn you on.") The actual plot of the film is kind of worn-a woman considers having an affair looking for something, and ends up finding herself-but it never actually feels that way, which is a big plus. On the other hand, some of the casting choices were questionable. There's a scene with Connor Kramme that's supposed to be intensely emotional that's, well, kind of unintentionally hilarious, and I really never bought Barry's transition from the confused-but-laid-back guy in the opening scenes to the fire-and-brimstone preacher; a bit more attention to that progression during the scriptwriting would have had a huge impact here, I think, and made Elena's ultimate decisions pack even more of a wallop than they did. (I will add that Sabrina Fuster's performance, which is sarcastic and knowing and all kinds of fun, does a lot to balance out these weak points-this is a woman with a very bright future in indie film, as long as Hollywood doesn't get hold of her.) So yeah, good points and bad points-but ultimately I think there's enough good here to recommend it, even without the kiss or the orgasm. ***
Robert Beveridge
½
Actors were perfect for their roles, and although this movie started out making you think 'oh this is going down the shitter', they imporve it ten fold and it just moves you. I absolutely loved how real it was. For instance it wasn't about how two gay lovers go galavanting out together and everything is perfect. It was what would really happen in this kind of situation. (Mayhaps because it was based on a true story? lol) What I LOVED is that this movie wasn't about lesbian sex, although it had that element, it didn't hype it (any more than any other movie)and make it this perverted "clean" type of porno that SO MANY people do nowadays when they have a movie about or with lesbians in it. Loved this movie, Bravo for equality! :)
Chelsea Dewey
Discussion Forum
Discuss Elena Undone on our Movie forum!
News & Features