Elizabeth
(2002)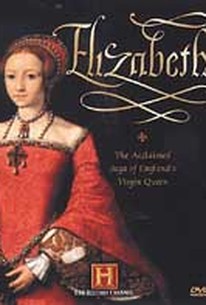 AUDIENCE SCORE
Critic Consensus: No consensus yet.
Movie Info
Rating:
NR
Genre:
,
On DVD:
Runtime:
Critic Reviews for Elizabeth
There are no critic reviews yet for Elizabeth. Keep checking Rotten Tomatoes for updates!
Audience Reviews for Elizabeth
She took the throne 450 years ago this year. She has been dead 405 years. And yet we still talk about her. Reproductions of her clothes won last year's Best Costume Design, and deservedly so. She wished to make no windows into men's souls, but we have spent these centuries trying to see into hers--and her own courtiers did before us. She was a brilliant, enigmatic woman; she was probably one of the smartest people alive in her day--and her day lasted longer than anyone could have expected, especially in those dark days in her sister's reign. She was born to be supplanted in the succession, regardless of which wife of her father's would produce the heir. Even had it been her own mother who gave her a brother, that brother would have been king before she could have been queen. Yet she is one of the best-known monarchs in not merely English but world history. Even her successor, who gave us the widest-used English translation of the Bible is only known for that; name one other thing he did during his reign. She was Gloriana Regina, the glorious queen. And yet she was also the scared bastard of the Great Whore. She was the Virgin Queen. And yet gossip of her day gifts her with as many as a half-dozen bastards of her own. She was a woman of contradictions, and it takes a great deal to even begin to show who she was. We have four episodes here, and it lets David Starkey come close. He starts with her inauspicious birth and takes us all the way through to the rise of her successor. That's two rather long paragraphs without use of her name. Sure, Rotten Tomatoes gives you the film's title, but the thing is, I doubt most of my readers would have to look at it to know of whom I spoke. I think that, if you asked any of you to name one monarch of England, more than half of you would name her first--or, I suppose, the [i]current[/i] Elizabeth. A&E listed the Elizabeth under discussion here as one of the most influential people of the last 1000 years--but she was placed under those she herself influenced, such as Sir Walter Raleigh and William Shakespeare. She gave us them. And Sir Francis Drake, and Christopher Marlowe, and on and on. She gave us England as we know it; her reign of power and prosperity let a distinct English culture rise that I do not believe would have risen otherwise. Starkey chooses, in his documentaries, to have actors stand in for the various important figures; we are given three Elizabeths. The child, the young woman, and the old woman. She is also shown in portraits--there are a [i]lot[/i] of portraits of her. We encounter various of the other important figures in her life, some in portrait--no actor to play her brother--and some as stand-in. Some both. It does give us something to look at while Starkey talks. And, of course, there is so much to say. He scarcely touches on her relationship with Dudley or on the plot that lead to Mary Stuart's death. I, as you may know, find Elizabeth one of the most fascinating figures in history. I advise that anyone who wants to learn more about her start here rather than some of the dramas about her life. They're mostly pretty entertaining, but this is [i]accurate[/i].
Edith Nelson
½
After seeing Elizabeth I and The Queen, I had hopes of a great story based on this fascinating leader. The film seemed to merely touch upon these fascets and then move quickly onto a new topics, without thread of story or any depth. This was quite a disappointing movie, one that had so much potential. It appeared to be like a anitquated period VOGUE shoot more than anything else. The last 20 mins. were ghastly.
Sharon McKenna
Elizabeth Quotes
There are no approved quotes yet for this movie.