$ellebrity
(2013)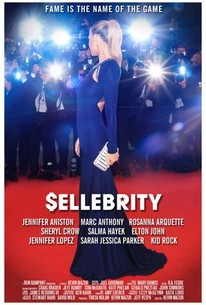 Movie Info
Renown Rock & Roll photographer Kevin Mazur has pulled together an impressive team for his first feature-length documentary about the changing face of celebrity and the many ways that the media has conveyed, defined and even demeaned what it means to be famous today. Taking a historical ride through the early days of Hollywood and the rise of the paparazzi, Sellebrity explores how fame has changed from the highly-structured studio system to the current free-for-all press and paparazzi frenzy. Candid interviews with Jennifer Aniston, Elton John, Jennifer Lopez, Salma Hayek, Sara Jessica Parker and Kid Rock among others, help to give a glimpse into the lives of those on the front lines of our increasingly obsessive world of pop culture celebrity. Fame is now a national pastime, it is what millions of us follow, believe in and seemingly what we care about most - as well as a billion dollar-a-year industry. But what does our intense fascination with celebrity say about us? And how much is too high a price to pay for our own curiosity run rampant? Sellebrity captures the free-for-all of pop culture today and the ever-changing face of fame.(c) Official site
Rating:
NR
Genre:
,
Directed By:
In Theaters:
On DVD:
Runtime:
Studio:
Critic Reviews for $ellebrity
Audience Reviews for $ellebrity
½
$ellebrity is a documentary about paparazzi culture and its origins. The movie was produced and directed Kevin Mazur who is himself a celebrity photographer. Overall the movie is a fantastic effort that is slightly marred by some uneven moments. In one scene Mr. Mazur goes to an awkward length to show and tell us that he is not like the horrible stalking photographers that we've grown to hate. In other parts of the film the history of the paparazzi is woven into the story line in a slightly disjointed fashion which tends to be mildly distracting. However, beyond the minor quibbles, the movie succeeds magnificently. Intelligent perspectives are offered by Sarah Jessica Parker, Jennifer Aniston, Jennifer Lopez, Marc Anthony, Sheryl Crow and Kid Rock who is wonderfully compelling with his commentary.
Lou Lesko
Really such an amazing documentary that touches on the culture around celebrities. Interviews with some of the A List celebs, such as Jennifer Anniston and Jennifer Lopez makes this a really great movie!
Jim Larrison
I really enjoyed this documentary I happened to catch on Showtime. Most people already know Paparazzi are one of the lowest media life forms, but this documentary made me think we need legislation to address this issue. Yes, actors should expect to be photographed - it's part of the life, however there should be boundaries, especially where children are concerned. Right now there seem to be no boundaries whatsoever. One segment I found particularly creepy was watching different celebrities attempting to go about their daily business while their children are crying and begging the photographers to stop. Of course, the photographers don't stop (apparently they have no souls.) Since I don't read magazines like People or Us, I was surprised (at first) to see how many of the photos and "stories" they run are completely fabricated. For some reason I thought People and Us were a cut above say the National Enquirer, but now I see they're all the same - it's just a question of degrees. There is an enlightening segment on how these magazines take video footage and pull different still photos out of context to make a story where there is no story. Overall I thought it was an enlightening and fascinating look at an industry we are all exposed to while standing in the checkout line.
Candy S
$ellebrity Quotes
| | |
| --- | --- |
| Salma Hayek: | There are people out there now that are absolutely famous, who don't work! |
| | |
| --- | --- |
| Sarah Jessica Parker: | It's a scary feeling! |