Ellie Parker
(2005)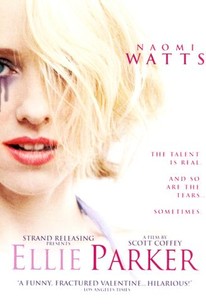 TOMATOMETER
AUDIENCE SCORE
Critic Consensus: Despite some poignant commentary about struggling actors and Naomi Watts' inspired performance, Ellie Parker stutters in making the transition from short to feature length.
Movie Info
Naomi Watts produces and stars in Ellie Parker, a semi-autobiographical story of an Australian actress struggling to make it in Hollywood. Ellie is young enough to still schlep to auditions back and forth across L.A., changing wardrobes and slapping on makeup en route, but just old enough that the future feels "more like a threat than a promise." She lives with her vacant musician boyfriend (Mark Pellegrino), who leaves her just about as dissatisfied as any other part of her life, and has a loose definition of the word "fidelity." Helping make sense of their surreal and humiliating Hollywood existence is her best friend Sam (Rebecca Rigg), another out-of-work actress trying her hand at design, who attends acting classes with Ellie to stay sharp. When Ellie gets into a fender bender with a guy who claims he's a cinematographer (Scott Coffey), her perspective on her work and the dating world starts to change. Chevy Chase also makes an appearance in this series of Hollywood vignettes, playing Ellie's agent. Watts, Coffey, and Pellegrino all worked together on David Lynch's Mulholland Drive, where Watts had her breakout performance, and Ellie Parker grew out of the friendship forged between Watts and director/screenwriter Coffey. It was shot on digital video over the course of five years, having begun its life as a series of shorts featuring Watts' character. ~ Derek Armstrong, Rovi
Critic Reviews for Ellie Parker
Audience Reviews for Ellie Parker
½
Really entertaining, experimental piece of work with a beyond good performance by Naomi Watts.
½
[font=Century Gothic]There are many actors who pass through Hollywood without becoming stars or making much of an impact. To think if it had not been for the unique trajectory of "Mullholland Drive," Naomi Watts might have been one of them, despite her great talent. In "Ellie Parker," Watts plays the title character, a struggling Australian actress, constantly driving from audition to audition in Hollywood, until she finds her musician boyfriend(Mark Pellegrino) in bed with another woman, followed by her being involved in a fender bender.[/font] [font=Century Gothic][/font] [font=Century Gothic]I have a great deal of empathy for struggling actors as events in "Ellie Parker" remind me of when I was unemployed and going to interviews non-stop. Ellie has an interesting pathology of not being comfortable in her own skin which might explain her wanting to be an actress and occasionally dressing up for auditions but there is not much depth or story in the film. It is odd that Ellie has no visible means of support(she does not have a day job like her friend, Sam(Rebecca Rigg)). And a star vehicle such as this can only make a modest production which was shot on digital video rather unwieldy.[/font]
½
An extremely uncomfortable movie-going experience. I would never watch it again. But Naomi Watts kept my interest in a truly brave performance. Apparently this was supposed to be funny? I think I smiled twice. It's not that dramatic or eventful either. The best way to describe this is "uncomfortable."
Joey Nevarez
Super Reviewer
Ellie Parker Quotes
There are no approved quotes yet for this movie.