Elvira Madigan
(1967)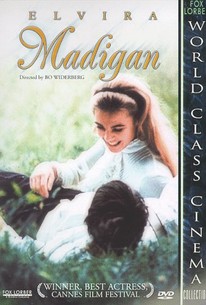 AUDIENCE SCORE
Critic Consensus: No consensus yet.
Movie Info
Inspired by the famous Johan Lindstrom Saxon ballad, this Swedish film involves circus performer Elvira Madigan (Pia Degermark) and army officer Sixten Sparre (Thommy Berggren). Sparre breaks loose of the oppressive atmosphere of both the military and his tradition-bound family to conduct a passionate affair with Elvira. Aware only of one another's presence, the lovers refuse to recognize that they have stepped irreversibly on the road to tragedy. ~ Hal Erickson, Rovi
Rating:
PG
Genre:
, , ,
Directed By:
Written By:
In Theaters:
On DVD:
Runtime:
Studio:
Europa Film
Critic Reviews for Elvira Madigan
All Critics (3) | Fresh (1) | Rotten (2)
I have no patience for the unrealistic and rather personality-challenged lovers as they cavort through sun-dappled fields.

Mountain Xpress (Asheville, NC)
Textured drama with unforgettable music.

Dispatch-Tribune Newspapers
Audience Reviews for Elvira Madigan
½
Trite story of two young lovers who wander the paradise of the Swedish countryside, while trying to escape their (presumably) unhappy and ethically questionable obligations as a military officer and a circus performer. The characters lack depth and make silly choices -- it's impossible to get a grip on who they are beyond the most superficial labels. The cinematography is dated and the use of Mozart's Piano Concerto No. 21 gets monotonous. Skip this one.
Mara Barker
½
[center][font=Times New Roman][size=4][img]http://3.bp.blogspot.com/_3mCOm4wxK3M/SX9WqDup0dI/AAAAAAAABtk/T7I7EFuQ9OM/s400/elvira.jpg[/img][/size][/font][/center] [font=Times New Roman][size=4][/size][/font] [font=Times New Roman][size=4]Summary (from IMDB): Elvira Madigan and Sixten Sparre decide to run away, but since Sixten deserted the army, he cannot find any job and the couple encounters many hardships. Moreover, while on the run, Sixten meets a friend who tries to convince him to come back to his country and family.[/size][/font] [font=Times New Roman][size=4][/size][/font] [center][img]http://4.bp.blogspot.com/_3mCOm4wxK3M/SX5qY2fwLjI/AAAAAAAABtc/lUL0fnRn_QI/s400/elvira.jpg[/img][/center] [font=Times New Roman][size=4][/size][/font] [font=Times New Roman][size=4]I had a lot of trouble deciding how much I liked this film after finishing it. One the one hand, this is one of the most beautifully shot films I have ever seen. Both the photography and cinematography are amazing for pretty much the entire film. On the other hand, the main characters are both so foolish that it becomes frustrating to watch them at times. Of course, I think that's the point. Widerberg does a great job developing characters who make mistake after mistake and instead of learning from these mistakes, they go further and further. It's a sad pattern, but one that is all too true for some people. Widerberg does this using mostly images over words. The film does falter in some of its features. The overuse of classical music during some sections of the film becomes overbearing. Also, I didn't care for some of the main male's acting. I thought his spoken lines were good, and even his facial expression, but they way he moved around felt like he was trying entirely too hard to look like he was in love...if that makes sense. Still, this is a great movie and I'm glad I saw it (though I can't remember for the life of me how I heard of it).[/size][/font]
Chris Weseloh
½
totally enchanting! mesmerizing scenes with Mozart's Piano Concerto 21 flowing throughout the whole movie. the last froze scene haunts audience in the seats for a long long time.
Sarah Chen
Elvira Madigan Quotes
There are no approved quotes yet for this movie.