Elvis
(1979)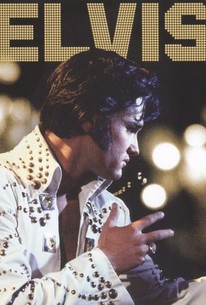 AUDIENCE SCORE
Critic Consensus: No consensus yet.
Movie Info
The first volley in the never-ending "Presley movie" blitzkrieg, the made-for-TV Elvis: The Movie stars Kurt Russell as the King, Season Hubley as Priscilla, Pat Hingle as Col. Parker, Shelley Winters as Elvis' mom, and Bing Russell (Kurt's real-life father) as Elvis' dad. The film recounts Presley's life from age ten to his 1969 Vegas comeback. Presley imitator Ronnie McDowell expertly dubs in Kurt Russell's renditions of "Love Me Tender," "Heartbreak Hotel," et al. When first telecast on February 11, 1979, the ratings for Elvis: The Movie went through the roof, even beating out a competing telecast of Gone With the Wind.
Rating:
PG
Genre:
, ,
Directed By:
Written By:
In Theaters:
On DVD:
Runtime:
Studio:
Dick Clark Productions
Critic Reviews for Elvis
All Critics (3) | Fresh (2) | Rotten (1) | DVD (1)
Respectful, unpretentious and elegant (a Carpenter characteristic), if somewhat ungainly in its substitution of California real estate for Memphis and Mississippi locations, the modestly budgeted 'Elvis' remains the definitive screen portrayal of Presley.

Commercial Appeal (Memphis, TN)
[John] Carpenter... puts the dramatic focus on the relationships and tricky social dynamic with the male friends who became Elvis support group and entourage.

A performance de Russell é impecável; é como se víssemos o próprio Elvis. Porém, o fraco roteiro se limita a retratar momentos da vida deste, sem procurar conhecê-lo melhor.

Audience Reviews for Elvis
I want to like this, I really do. I even watched the 3 hour long version in hopes it would be great. But it's so factually inaccurate and cheesy I really can't say much about it other than it's a sort of decent 101 into Elvis I suppose? Kurt Russell, considering he looks nothing like Elvis, does do a great job of getting Elvis' ticks and moves down- if you squint and imagine his voice about a pitch lower he's pretty great.
Jenna Ipcar
I've never been a huge Elvis Presley fan. He has a few songs that I dig, some I don't, a bunch of movies I haven't seen (I've seen some, but the only one I truly watched was "Jailhouse Rock", which was decent) and I don't really have anything against him. He is an American Icon though, and I am just a little bit interested in him. This bio-pic is pretty decent, mostly propelled by the great performance by Kurt Russell, who really nails the part. The film was directed by John Carpenter, who chose to do something very different following completion of "Halloween". The choice was a smart one, to try his hand at something new and expand his horizons. It also was his first team-up with Russell, and the two would continue to collaborate on several entertaining movies over the next decade. The film has inaccuracies like most bio-pics, and at times it seemed to rush through several pivotal events despite it's length of almost 3 hours. Another issue would be that several characters aren't really explained or developed, and only make sense if you know the story of Elvis already. Elvis is the only character truly developed, which makes sense, but he is, at times, portrayed a little too pure and his demons aren't really explored (and the film ends before his life took it's downturn that lead to his death). Still it is a decent bio-pic with a tremendous performance from Kurt Russell.
Ken Scheck
Emmy winning film. See the movie that rated better than Gone With t1he Wind shown at the same time on American television! And why not? This tv made film was shown only 2 years after the king's death! It does NOT deal with his death, sadly. Elvis is a 1979 American television biographical film directed by John Carpenter. It is based upon the life of Elvis Presley, and stars Kurt Russell in the title role. One very positive thing to write about this powerful biopic film. Above all, this is a film about a loving son and his loving mother. Elvis loved his mom, some would characterize it as obscessive. His mother likewise. This was no ordinary son-mother relationship. It bordered on the weird. Still, the mother and son relationship is priceless on film here and portrayed so beautifully. Shelly Winters plays the excellent, loving mother. Elvis, as Kurt Russell the very loving son. He phones her every chance he gets. No wonder his life crumbled when his mother died. Very Very sad. This film is briskly paced, moving and very well made. I would have it at a 100% rating were it not for its television grade appearance. Still, so few films move us like this one.... a mother and son love relationship.. a supernova celebrity... that is Elvis. I have one HUGE negative to say about the casting in this film. I positively, without a doubt, can not possibly think of a worse supporting actor than the Colonel Tom Parker character known in reality as PAT HINGLE. [img]http://t0.gstatic.com/images?q=tbn:ANd9GcTbHxBf9s1l-kYAP9poroDYDEqY_HkxUJNX0DWsfezNNvBOeals[/img] Pat Hingle God I despise this actor. He is the most dispicable B actor to have ever been in film as he ALWAYS portrays a heinous asshole individual! How can anyone be so dispicable, so hateful, so dishonestly bowel disturbing of an person as PAT HINGLE? The movie went straight to hell for me when this asshole showed his face on the screen! But it's also true that this should be the casting part for Colonel Tom Parker, who was in reality the most dispicable, fart faced, using person on the planet then or now. How perfect to have the worst shit actor Hingle portraying the worst shit person Parker! There... now you know how I feel. REVIEWS: 60% Very good performance by Kurt Russell. But unless you're an actual Elvis fan, you might have a hard time enjoying it. 80% Watching this as a child, I used to think that it was a remarkable stroke of luck that they somehow were able to get Elvis to star in a biopic about himself... 70% Kurt Russell hits it out of the park, capturing both the King's heart and mannerisms. Scenes of Elvis in performance showcase both his stage presence... NOTES: 1 Kurt Russell was nominated for an Emmy Award for his performance as Elvis. Also nominated for Emmy Awards were cinematographer Donald M. Morgan and make-up artist Marvin Westmore. Kurt Russell (Ronnie McDowell, singing) ... Elvis Presley Shelley Winters ... Gladys Presley Season Hubley ... Priscilla Presley Bing Russell ... Vernon Presley Robert Gray ... Red West Pat Hingle ... Colonel Tom Parker Charles Cyphers ... Sam Phillips Ellen Travolta ... Marion Keisker Charlie Hodge ... Himself James Canning ... Scotty Moore Elliott Street ... Bill Black [img]http://t3.gstatic.com/images?q=tbn:ANd9GcTKtBher5Lq5fpIctTfMB7WnVyw-oJ36oqaf3mCUiol3IMlnmvi3w[/img] Elvis had blonde hair early SEE the entire film with me now: http://www.youtube.com/watch?v=eAXW-jBqRZs [img]http://upload.wikimedia.org/wikipedia/en/thumb/7/71/Elvis_%281979_film%29.jpg/220px-Elvis_%281979_film%29.jpg[/img] Distributed by American Broadcasting Company (ABC) Scotia (West Germany, theatrical) Directed by John Carpenter Produced by Dick Clark Anthony Lawrence Written by Anthony Lawrence Music by Joe Renzetti Cinematography Donald M. Morgan Production company Dick Clark Productions Budget $2.1 million Country United States Language English Original channel American Broadcasting Company Release date February 11, 1979 Running time 150 min. [img]http://t1.gstatic.com/images?q=tbn:ANd9GcSV8RWYCvupbbL0r3DpcJrat24yy8UgTmMoIB-sUDYtAeTK45UT[/img]
monsieur rick
Elvis Quotes
There are no approved quotes yet for this movie.
Discussion Forum
Discuss Elvis on our Movie forum!