Elvis - Aloha From Hawaii
(1973)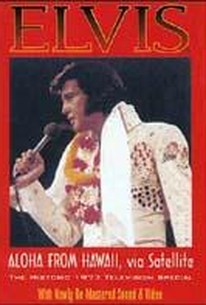 AUDIENCE SCORE
Critic Consensus: No consensus yet.
Movie Info
Elvis Presley performs in Honolulu, Hawaii, in this 1973 concert. Among the 25 titles included are "Blue Suede Shoes," "Suspicious Minds," and "C.C. Rider." Elvis made television and entertainment history as this was the first-ever live concert broadcast over satellite, reaching in excess of one billion people worldwide.Note: Elvis' performances of I'm So Lonesome I Could Cry, I Can't Stop Loving You, and Johnny B. Goode in the Aloha From Hawaii concert have been deleted from the newly re-released DVD/VHS editions of this program. Music publishing clearance from the songs' owners was up for renewal and an agreement could not be reached.This edited version is the only available version of Elvis' historic Aloha From Hawaii concert.
Rating:
NR
Genre:
Directed By:
On DVD:
Runtime:
Audience Reviews for Elvis - Aloha From Hawaii
The FIRST round the world telecast via satellite, this is THE definitive Elvis concert... BIGTIME. See it, live it, be swept away by it. See it on youtube. At 75 minutes in color, a huge treat for Elvis fans. The King is in pretty good shape too. Televised and historic for using satellite broadcast to over a billion people worldwide. [img]http://ts1.mm.bing.net/th?id=I.4652451027812896&pid=1.7&w=182&h=146&c=7&rs=1[/img] SEE the entire concert here : http://www.youtube.com/watch?v=oC9fdbcgLTE&feature=related Considered Elvis' most celebrated performance, the King proves he still could entertain and works tirelessly to prove it. He must have gone through a dozen scarves at one point, dripping with sweat. The vhs version of this released by the estate of Elvis includes 3 tunes not allowed to be shown in the recent dvd release. The song set is contains some hits for Elvis, from the old days to the new. 30 songs. He covers a variety of pop hits including Gordon Lightfoot's classic Early Morning Rain, the Beatles "Something", Sinatra's My Way, etc. Especially thrilling is his rendition, now called an American Trilogy, of 3 tunes done in a long set: Dixie, Glory Glory Hallelujah and Hush Little Baby. The show ends with, of course, a rousing Can't Help Falling in Love. The vhs version is preferable (due to the 3 additional songs) to the dvd but not as long as the dvd. [img]http://ts4.mm.bing.net/th?id=I.4969526942041643&pid=1.7&w=203&h=155&c=7&rs=1[/img] Televised live from Honolulu, Hawaii. VHS hi-fi, color, 75 minutes. Typical televised filming and editing with some pretty corny stuff during Early Morning Rain. See below for a sample of the film: http://www.youtube.com/watch?v=6xcZCigY3gE [img]http://c.wrzuta.pl/wi5013/47d6a7ad0012d84847640f65/elvis_presley_-_aloha_from_hawaii_via_satellite[/img] REVIEWS and Commensts: 1 Best Video, Best Performance Ever that Elvis did. I've been watching this for years and I still get chills after watching. I put away this CD set for a few months and get excited all over again when I watch it. Never gets old....... How many other performers can do that to you? 2 Yes. I enjoy watching everything of him, his face, his body, his poise and his unique voice and style. I've been waiting for decades for God to give us another one like him. His music and memory will never die. Every year he will be remembered by his fans.  [img]http://photos.elvispresleymusic.com.au/images/70s/aloha/elvis_aloha_1973_2.jpg[/img] NOTES about the film: 1 The most watched broadcast by an individual entertainer in television history. 2 Despite the satellite innovation, the United States did not air the concert until April 4, 1973 (the concert took place the same day as Super Bowl VII). 3 The show was the most expensive entertainment special at the time, costing $2.5 million. 4 Officially it would was in aide of the Kui Lee Cancer Fund. Audience tickets for the January 14 concert and its January 12 pre-broadcast rehearsal show carried no price. Each audience member was asked to pay whatever he or she could afford. [img]http://www.elvis.com/!userfiles/editor/images/About%20The%20King/aloha1.jpg[/img] 5 After the concert had finished and the audience had left, Presley recorded five songs on stage to be aired during the American airing of the show. 6 the album was the first quadraphonic album to top the Billboard album chart, and remains the biggest-selling release in the format. 7 Presley arrived in Hawaii again on January 9 1973 to begin rehearsals. He had lost twenty-five pounds for the show and was confident after news that his record sales were increasing and Elvis on Tour had been nominated for a Golden Globe. Presley was accompanied by: James Burton (lead guitar) Charlie Hodge (acoustic guitar/vocals) Glen Hardin (piano/keyboards) Ronnie Tutt (drums) John Wilkinson (rhythm guitar) Jerry Scheff (bass) J.D. Sumner & the Stamps Quartet (vocals) Kathy Westmoreland (vocals) The Sweet Inspirations (vocals) Joe Guercio & his Orchestra Produced by Marty Pasetta, Gary Hovey Starring Elvis Presley Distributed by RCA Release date(s) January 14, 1973 Running time 85 min. Color. [img]http://images3.wikia.nocookie.net/__cb58378/lyricwiki/images/e/eb/Elvis_Presley_-_Aloha_From_Hawaii_Via_Satellite.jpg[/img]
monsieur rick
Elvis - Aloha From Hawaii Quotes
There are no approved quotes yet for this movie.