Elvis Gratton II: Miracle à Memphis
(1999)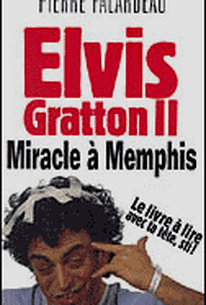 AUDIENCE SCORE
Critic Consensus: No consensus yet.
Elvis Gratton II: Miracle à Memphis Photos
Movie Info
The sprit of Elvis Presley is alive (sort of) and well (or at least as well as can be expected) somewhere in the French portion of Canada in this broad comedy from Quebec. Though Elvis impersonator Bob Gratton (Julien Poulin) died at the end of the film Elvis Gratton, Le King Des Kings, as this one kicks off Bob has mysteriously risen from the grave. Taken to a hospital for tests, Bob seems remarkably chipper, considering the fact his brain is displaying no activity at all. Bob and his best friend Meo (Yves Trudel), who doesn't speak, head out to the country for a well-deserved rest after Bob's 14 years in a coffin. However, their pastoral idyll is interrupted by Donald Bill Clinton (Barry Blake), a shifty agent from the United States who fast talks Bob into signing a deal that will put him on the road to fame and fortune. Suddenly Bob is making like Elvis at concert halls around the world while a French filmmaker is dispatched to make a movie about his life (or whatever it is he's leading now). Laced with political satire supporting the Quebec separatist movement, Elvis Gratton II -- Miracle A Memphis was a major box-office hit in Quebec, where the original film has developed a sizable cult following its release on video. ~ Mark Deming, Rovi
Critic Reviews for Elvis Gratton II: Miracle à Memphis
There are no critic reviews yet for Elvis Gratton II: Miracle à Memphis. Keep checking Rotten Tomatoes for updates!
Audience Reviews for Elvis Gratton II: Miracle à Memphis
½
Second Elvis Gratton film is a somewhat funny film, but really is a mess due to the fact that it has a pretty poor concept, lack of truly memorable jokes and also the fact that Pierre Falardeau, the director constantly uses the Quebec Sovereignty angle to make a point, and he makes himself look like the Quebec Spike Lee in doing so, making films that really have one trick up its sleeve. This follow up wouldn't be so bad if it really had some great jokes, I admit, I did laugh a few times, but after awhile, the film suffered, and lost its way, due in part to Falardeau's inept directing. I was born in the Province of Quebec, and I know most people despise his as pure separatist propaganda, which it is. There is a part in the film, where it cuts to a real world sit down between the actor and director discussing the ending. They then show a second ending that humiliates the rest of Canada, and makes French Canadians, more notably Quebecers look like a bunch of ignorants. Not everyone from Quebec thinks like this, and it's sad to see the legacy of such a great province diminished by the likes of a select few, and most notably Falardeau with his Elvis Gratton films. Luckily Quebec gave the cinematic world the great Denis Villeneuve who is fast becoming one of today's finest directors due in part to his incredible body of work with films such as Prisoners and Enemy to name a few. Back to this film, Miracle a Memphis really isn't anything worth seeing; it's the same old jokes as in the original, and very much like Spike Lee, Falardeau hammers through his pointless ideals into the viewer and in turn, it ends up being ridiculous laughable and ultimately forgettable.
Elvis Gratton II: Miracle à Memphis Quotes
There are no approved quotes yet for this movie.