Elvis Meets Nixon
(1998)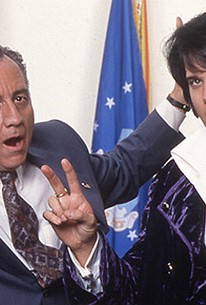 AUDIENCE SCORE
Critic Consensus: No consensus yet.
Elvis Meets Nixon Videos
Elvis Meets Nixon Photos
Movie Info
Two of America's great cultural icons meet in this highly amusing comedy (which, as the film reminds us, is based on actual incidents; check out Peter Guralnick's superb Presley biography Careless Love for a more direct recounting of the facts). One evening Elvis Presley (played by Rick Peters) is alone at his mansion, feeling out of sorts, and he gets an idea -- he wants to be named an FBI Agent At Large to do his part in the war on drugs. And how better to achieve this lofty goal than to go to Washington, D.C. and speak with President Richard Nixon (Bob Gunton)? For the first time in years, Elvis leaves the house by himself, hops on a plane, and jets to our nation's capital, determined to get in touch with Mister "I Am Not A Crook" himself. Director Allan Arkush plays this story for all the absurdity its worth, but still hews pretty close to the truth (with several real-life "witnesses" offering their view of the events, including Tony Curtis, Wayne Newton and Dick Cavett) and presenting a convincing argument that Presley and Nixon had a lot more in common than you'd imagine; both title characters come off as cartoonish, but affectionately so, and this ranks with the most likable and sympathetic portraits of Elvis Presley committed to film.
Rating:
PG-13
Genre:
, ,
Directed By:
Written By:
In Theaters:
On DVD:
Runtime:
Studio:
Avalanche Entertainment
Cast
Critic Reviews for Elvis Meets Nixon
All Critics (1) | Fresh (0) | Rotten (1)

Audience Reviews for Elvis Meets Nixon
½
At the very start of the film we hear: "The story you are about to see is, for the most part, true, and that's what's scarry". This is very true. Elvis is not imitated well but it's still worth watching if only in small portions over time. Nixon is played stunningly well even to the nuances of the man. THIS is a film that is like a time capsule, a look back in time when the country was emerging with a counter culture vs the Elvis culture. [img]http://i2.fc-img.com/fc03img/Comcast_CIM_Prod_Fancast_Image/28/905/1320670372739_Elvis_Meets_Nixon_tms_h_Overlay_590_295.jpg[/img] SEE the entire movie on youtube at: http://www.youtube.com/watch?v=CNvcTQWdF9Q [img]http://upload.wikimedia.org/wikipedia/commons/thumb/4/41/Elvis-nixon.jpg/220px-Elvis-nixon.jpg[/img] The Story: "Elvis Presley, bored with his confined existence in Graceland, leaves his home on his own for the first time since he was 21. He winds up in California and is convinced by an Anti-war activist that he is responsible for the drug culture through his influence on The Beatles. This convinces Elvis to write a letter to President Nixon asking to be made a "Federal Agent at Large" for the Bureau of Narcotics and Dangerous Drugs."--- wikipedia SEE the trailer here: http://www.rottentomatoes.com/m/elvis_meets_nixon/trailers/ Not a laugh a minute, it has some dramatic parts when Elvis bares his feelings to others, like "I'm tired of being me". The acting is pretty crude but I suppose up to comedy standards. This is not a deep thoughts type comedy, rather just a trip back in time when Elvis actually did make a trip to visit then President Nixon at the White House. The Graceland home of Elvis is set at Christmas, which has been known to be his favorite holiday, embellishing the entire home with lit Christmas trees inside and out. While everything about Elvis is perhaps exaggerated for amusement sake, one can certainly buy into his antics, both public and private. Like insisting on carrying on his chrome plated revolver on a plane, his traveling without money and barely finding a credit card he barely knew of or knew what was used for. Credit cards back then were a very new thing. Traveling alone was NOT what Elvis did for he was not allowed to travel anywhere alone. It was just not done as he was too public a celebrity, but the amusing part of the plot is that for ONCE he does escape his home and his handlers and like a kid he enjoys every minute of it. Except when in his hotel suite he realizes he has never actually been alone, EVER! At first I was disappointed in the lead actor's performance, but gradually I understood that the story was what mattered here in this historically based film. I could not watch it in one sitting however as I found it more interesting and amusing, at times very funny, in several viewings. [img]http://i.ytimg.com/vi/qQQPky5BzqU/0.jpg[/img] One of the more unexpected treats for those that can relate to the period and for those that are too young, can see a time capsule parody of the man they still refer to as The King. I can suggest however that you at least try to watch some of the film and see if it works for you, and it may not for a variety of reasons.... like Who is Elvis? In that case, see the film to find out. Reviews: 1 60% Although it is more of a cartoonish-ly caricatured account it is quite an amusing one...however caricatured and embellished, 2 I recomend this movie. I played a passenger on the plane with Elvis. 3 90% This movie is fantastic. A must see for Elvis or Nixon fans, does Nixon have fans? It is comical and insightful in my opinion, NOTES: 1 On the flight [to Washington] Presley met California senator George Murphy. Presley showed an interest in acquiring a Bureau of Narcotics and Dangerous Drugs badge, and Murphy suggested that Presley write to President Nixon offering his services to help combat illicit drug use. Presley wrote a letter on the plane and hand delivered it to the White House at 6.30am on the morning of December 21. 2 Presley persuaded Nixon to give him a BNDD [Bureau of Narcotics and Dangerous Drugs] badge, and after an official photograph was taken, the trio left, with Presley returning to Graceland the following day. 3 Presley offered his services as an undercover agent. Despite never getting to meet FBI director J. Edgar Hoover, Presley did receive a letter from him on January 4, 1971, acknowledging his offer of assistance. Cast Bob Gunton as Elvis Presley Rick Peters as Richard M. Nixon Alyson Court as Priscilla Presley Denny Doherty as Vernon Jackie Burroughs as Dodger Curtis Armstrong as Farley Hall Gabriel Hogan as Bobby Bishop Robbi Jay Thuet as Lisa Marie Presley Thom Sears as Bodyguard #1 Wayne Ward as Bodyguard #2 Rick Wharton as Bodyguard #3 Keith Jones[disambiguation needed] as Bodyguard #4 Robyn Stevan as Karen Patrick McKenna as Karen's supervisor Hamish McEwan as Wait carpenter Julia Paton as Melissa (stewardess) [img]https://encrypted-tbn2.google.com/images?q=tbn:ANd9GcRaw4XNGb_pWsNXEnTIwebWHErS4lIgkLH0QmUBFhcrBc3dDz5CeA[/img] Directed by Allan Arkush Produced by Alan Rosen; Robert O'Connor (executive producer); Vicky Herman, Peter Pastorelli (line producers) Written by Alan Rosen Cinematography Michael Storey Editing by Neil Mandelberg Country United States Language English [img]http://www.elviscollector.net/assets/images/Elvis_Meets_Nixon.jpg[/img]
monsieur rick
Discussion Forum
Discuss Elvis Meets Nixon on our Movie forum!
News & Features