Elvis Presley - The Last 24 Hours
(2004)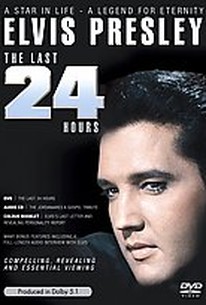 AUDIENCE SCORE
Critic Consensus: No consensus yet.
Movie Info
Rating:
NR
Genre:
On DVD:
Critic Reviews for Elvis Presley - The Last 24 Hours
There are no critic reviews yet for Elvis Presley - The Last 24 Hours. Keep checking Rotten Tomatoes for updates!
Audience Reviews for Elvis Presley - The Last 24 Hours
Very moving film that captures more than just the last day Elvis lived but the years before. To hear his closest friends retell their eyewitness thoughts of Elvis slowly leaving us, due to his eating habits, pills, lifestyle and most of all Colonel Parker driving him to death. Directed by Mike Parkinson. The last 24 hours in the life of Elvis are counted down. [img]http://ecx.images-amazon.com/images/I/51K8TYADP0L._SL500_AA300_.jpg[/img] SEE the entire film here, a documentary style movie: http://www.youtube.com/watch?v=W3gUiDcDIrI [img]http://t2.gstatic.com/images?q=tbn:ANd9GcTcd-1F9MY3IeMmaFXx9pSqrLPoXhIH70h9FOKL07YXLj8EunoD[/img] REVIEWS: 1 "I just saw the last 24 hours of elvis, and it made me cry because I was a big fan and my birthday is july 16th 1966, I was 11 years old when he died, i'm a handicapped man with cerebal palsy and use a wheelchair to get around to this day I still listen to his music and love it, long live the king, r.i.p, Elvis, love and miss you.peace to everyone who knew and loved Elvis. peace. from Rob.ps(T.C.B.)" 2 "Just watched this & couldn't help crying my eyes out. I remember vividly the day Elvis died. My birthday was Friday of that week & on that Tuesday picked out an Elvis album fo my birthday. I went to Boy Socut meeting that night & my best friend told me he died. I was 12 years old & I slumped against the wall & just crumbled in a heap." 3 "I thought I had seen everything about Elvis. I just loved this. It was so informative. It did change how I've felt about the "Memphis Mafia" for years. Now I can see the love and frustration they had with trying to help him. There will never be another like him,.... RIP, E." [img]http://cdn100.iofferphoto.com/img/item/143/578/067/elvis-presley-the-last-24-hours-king-of-rock-n-roll-dvd-2b71b.jpg[/img]
monsieur rick
Elvis Presley - The Last 24 Hours Quotes
There are no approved quotes yet for this movie.