Emergency Landing
(1941)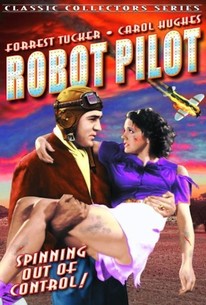 AUDIENCE SCORE
Critic Consensus: No consensus yet.
Movie Info
Originally titled Emergency Landing, PRC's Robot Pilot affords an early leading-man opportunity to Forrest Tucker. He plays a test pilot, working on behalf of inventor Emmett Vogan. When Vogan's radio-controlled plane proves a failure, Tucker valiantly offers to keep trying. Carol Hughes and Evelyn Brent are the anxious ladies who await the results of Vogan's experiments, while villainy of a Germanic nature is provided by I. Stanford Jolley and Stanley Price. Also on hand is young Jack Lescoulie, light years away from his announcing chores on NBC's The Today Show.
Rating:
NR
Genre:
Directed By:
Written By:
Runtime:
Studio:
Producers Releasing Corporation
Audience Reviews for Emergency Landing
Not at all what one might think it is. The plot isn't downright terrible, but it's hardly interesting. There are a lot of weird little moments, strange characters, and boring scenes. Overall, a disappointing film that mostly has nothing to do with a robot pilot.
Wes Shad
Low budget oldie, but very interesting and it always held my interest. The cast is great. Well written and enteraining. Short and sweet.
James Higgins
Robot Pilot (aka "Emergency Landing") Starring: Forrest Tucker, Emmett Vogan, Carol Hughes, Evelyn Brent, and William Halligan Director: William Beaudine A test pilot (Tucker) and a weatherman/bush-pilot-turned-inventor (Vogan) have developed a prototype for a new kind of autopilot they believe will permit flawless remote-controlling of aircraft, thus allowing for bombing raids against the Nazis and Japanese without endanggering pilots. However, interference from enemy spies and an aircraft manufacturing mogul's ditzy, self-important daugther (Hughes) may well spell doom for their project before it ever gets off the ground. "Robot Pilot" is an avation/sci-fi film with of heavy doses of coy, cute romancing and goofy comedy. Unfortunately, much of the comedy falls completely flat, partly because of changes in society in the 65 years since the film was made, and party because it just isn't very funny. (There's a "simple-minded Mexican" comic relief character whose scenes drag on and on and on. His stchick is actually somewhat more amusing when Evelyn Brant mimics him in a later scene. If fact, the funniest scenes in the film usually involve Brent, who is definately the most talented actress in the film.) The simple story moves fast enough for the viewer to not get bored, nor to have time contemplate the implausibility of some of the plot developments. This may be damning with faint praise, but "Robot Pilot" is one of the best films William Beaudine ever directed. If there had been less ethnic humor and more intrigue and drama, it might have ennded up with a Five or Six rating.
Steve Miller
Emergency Landing Quotes
There are no approved quotes yet for this movie.