The Emperor Waltz
(1948)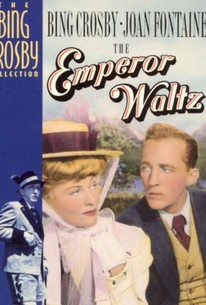 Movie Info
This love story is about an American phonograph salesman and a bankrupt Austrian countess.
Rating:
NR
Genre:
, , , ,
Directed By:
Written By:
In Theaters:
On DVD:
Runtime:
Studio:
Paramount
Critic Reviews for The Emperor Waltz
Audience Reviews for The Emperor Waltz
Billy Wilder wrote and directed this Bing Crosby musicomedy, which features lovely Technicolor photography; unfortunately, the satire isn't always on target and the comedy often falls flat. Bing sings "I Kiss Your Hand, Madame."
Michael Troudt
½
2 Oscar nominatations. Light and amusing canine romance? No, but two pets bring these vastly different people together, one an Austrian princess and the other? The other is Bing Crosby as a fast talking American salesman that runs circles around the stuffy Austrian Emperor's upper class snobs. Directed by Billy Wilder. [img]https://encrypted-tbn3.gstatic.com/images?q=tbn:ANd9GcRbRwyQiz7xalAQPM-nUo2wmM4UA0mjFLZW5sgl5pmJ2aRLyITasw[/img] It's a hoot and a toot and a singing triumph as this light romantic comedy will make your day if not your dog's. Billy Wilder's first and last musical comedy, but this is not a musical much at all, just a few tunes sung by Bing. See Crosby swoon his way into a stubborn Austrian royalty's heart. She's a widow that thinks the world is composed of only two types, the low class and her upper class. Boy, is SHE in for a suprise! [img]http://i1.ytimg.com/vi/B9fGJLuerzw/hqdefault.jpg[/img] SEE the entire film here: https://www.youtube.com/watch?v=0o-hfW079dw REVIEWS: 60% A brash American gramophone salesman tries to get Emperor Franz Joseph's endorsement in turn-of-the-century Austria. 50% definitely the worst film i've seen in billy wilder's catalog. there's still some good stuff in here, but over all it's just an okay picture. [img]https://encrypted-tbn0.gstatic.com/images?q=tbn:ANd9GcQrCmTnh5KugbSYX-W-oJVb6tf0hBYSIzs2LbKlIw5jZjpYSWNWRQ[/img] NOTES: 1 Wilder later confessed, "The picture didn't come out what I wanted ... I was looking back at my childhood in Austria-waltzes, Tyrolean hats, cream puffs-shutting out what came later," a reference to the war-torn Vienna he visited prior to the film's start. 2 "Bing Crosby operated for himself, not for the group or the film," Wilder recalled. "He was a big star, the biggest, and he thought he knew what was good for him." 3 $20,000 to have pines shipped from California and planted on location because Wilder was unhappy with the look of the native trees. He also planted 4,000 white daisies dyed blue so they would photograph better. 4 leading lady Joan Fontaine, who later recalled, "Crosby wasn't very courteous to me ... There was never the usual costar rapport. I was a star at that time, but he treated me like he'd never heard of me." The singer tended to ignore his director as well. [img]http://i815.photobucket.com/albums/zz79/punter18_2009/EW5.png[/img] Blame it all on the dogs Bing Crosby as Virgil Smith Joan Fontaine as Countess Johanna Augusta Franziska Roland Culver as Baron Holenia Lucile Watson as Princess Bitotska Richard Haydn as Emperor Franz Joseph Sig Ruman as Dr. Zwieback Harold Vermilyea as Chamberlain Julia Dean as Archduchess Stephanie Bert Prival as Chauffeur Alma Macrorie as Inn Proprietress Roberta Jonay as Chambermaid John Goldsworthy as Obersthofmeister [img]http://24.media.tumblr.com/tumblr_m6pwlwFv0T1qzdvhio1_500.jpg[/img] Directed by Billy Wilder Produced by Charles Brackett Written by Billy Wilder Charles Brackett Music by Victor Young Cinematography George Barnes Editing by Doane Harrison Studio Paramount Pictures Distributed by Paramount Pictures Release dates July 2, 1948 (USA) Running time 106 minutes [img]http://upload.wikimedia.org/wikipedia/en/thumb/c/c5/TheEmperorWaltz.JPG/220px-TheEmperorWaltz.JPG[/img]
monsieur rick
The Emperor Waltz Quotes
There are no approved quotes yet for this movie.
Discussion Forum
Discuss The Emperor Waltz on our Movie forum!