Employees' Entrance
(1933)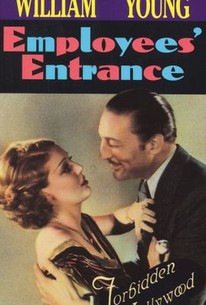 AUDIENCE SCORE
Critic Consensus: No consensus yet.
Employees' Entrance Photos
Movie Info
Warren William plays a high-powered ambitious executive who unflinchingly steamrolled his way to the top without regard for the havoc he left in his wake. As the manager of a Macy-like department store, he constantly browbeats his flunkies into submission, and ends-up driving at least one to suicide. Loretta Young plays the wife of one of William's minor employees (Wallace Ford), with whom the Big Boss has a brief affair during an office party. Eventually William gets his comeuppance, and Loretta is vindicated in the eyes of her hubby. A terrific example of pre-Motion Picture Production Code raciness, Employees' Entrance still causes audiences to gasp at its audaciousness when seen today--and also invokes loud laughter when William rebukes one of his errant vice presidents, asking him "What am I paying you so much for? Fifteen thousand a year!"
Critic Reviews for Employees' Entrance
All Critics (3) | Fresh (3) | Rotten (0)
You quickly get used to the on-the-nose dialogue... and the story moves quickly while still managing to develop our interest in the main characters.
Clever comedy/melodrama about a nasty power-hungry boss who gets his comeuppance.

Ozus' World Movie Reviews

Audience Reviews for Employees' Entrance
½
hardcore precode with warren william, terrific as a ruthless executive and womanizer, firing people left and right and even driving one employee to suicide. the film still packs a punch 80 years later
Stella Dallas
Super Reviewer
½
Warren William and Loretta Young star in a story about a department store in NYC, back then a very big deal. We see the appeal of Williams as a star in the very first scene with his speech in front of the department store executives, he is the focus and a focal point. Williams is a ruthless store manager, Curt Anderson, a role that he portrays par excellence. Loretta Young is Madeline, an unemployed looker seeking employment at the department store. The two meet after hours at the store and through mutual flirtation they agree to dinner and ...uhm...her employment. To increase sales Anderson holds a meeting with the executives to brainstorm ideas, one of which is to sell men's boxers next to men's ties next to women's articles because women buy men's boxers. As we progress Madeline and Mr. West, Wallace Ford, become an article just as Mr. West is promoted to Mr. Anderson's assistant, to the chagrin of Madeline, who despite what Martin says she does know Mr. Anderson better than Martin. The ruthless nature of the store is apparent when Higgins, an employee of 30 years is dismissed and then commits suicide outside the store after Anderson fires him and tells him he is useless. There is a scene at a party when Anderson and Madeline are under the influence and Madeline then pops a number of balloons with a cigarette, perhaps I read to much into this but I believe that this is symbolic of Anderson taking Madeline's virginity and a reason why she is seduced/raped by him at the party. Once Anderson is aware that West and Madeline are married he becomes enraged and tries to break up the marriage. The ending is complicated and great, Madeline drinks poison, West shoots Anderson, Anderson forgives him, Anderson hooks up with the hussy, Anderson gets the store back on track and the hussy gets left in the dust. In one of the great modern day scenes Williams drops the hussy's toy dog in the trash can when he informs her that he still has a job. If only we could do that with all the reality TV women who have a small dog, and drop the women in the can instead of the dog.
Mike L
This movie is definitely pre-code, it's story is a realistic and truthful account of the troubles of a working girl and her boyfriend. This movie is worth a glance.
Employees' Entrance Quotes
There are no approved quotes yet for this movie.
Discussion Forum
Discuss Employees' Entrance on our Movie forum!