En la Puta Vida
(2001)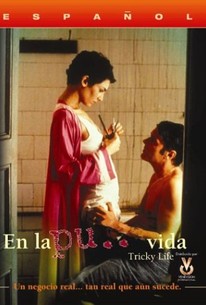 AUDIENCE SCORE
Critic Consensus: No consensus yet.
Movie Info
Turf wars between Uruguayan hookers and Brazilian drag queens are just one of the highlights of Tricky Life, a serious but humorous look at women, poverty, and white slavery. When Elisa (Mariana Santángelo), a single mother of two, is kicked out of her mother's house in the middle of a rainstorm, she goes to her current lover, a married, middle-aged store keeper, for help. He finds her an apartment in Montevideo, where Elisa lives with her best friend Lulu. The two women want nothing more than to open their own hair salon, but can't find the necessary money to do so. Deciding prostitution is the easiest way to go for financing, they find a respectable brothel to call their workplace. Things go fairly smoothly until Elisa falls for Placido, an older, smooth-talking Spaniard who seduces her with his smooth manner and talk of riches to be had in Barcelona. Abandoning both her children and a good portion of her common sense, Elisa, with Lulu in tow, follows Placido to Barcelona, where she soon discovers that Placido is better at making promises than actually keeping them. Tricky Life was screened at the 2002 Philadelphia Festival of World Cinema. ~ Rebecca Flint Marx, Rovi
Critic Reviews for En la Puta Vida
There are no critic reviews yet for En la Puta Vida. Keep checking Rotten Tomatoes for updates!
Audience Reviews for En la Puta Vida
The filmmaker could not seem to make up her mind whether this was supposed to be a comedy, or a straight expose of the seamy underbelly of human trafficking. Because of that indecision, this viewer was unable to work up any sympathy for the plight of the "puta" of the title. Maybe if the young woman had enjoyed her work a little less, or her lover/pimp had been a bit more ruthless, or if we had been given any reason to see her as a victim more than a willing accomplice in her own enslavement then this might have been able to make a statement. The trial at the end seemed more like vindictive revenge by a jilted lover than an actual pursuit of justice. The plot was hard to follow, the motivations were vague at best, the scenery mostly dark exteriors or squalid hotel rooms, the sex chaste, and the dialog unfocused. Not much here to recommend this.
Mark Abell
Super Reviewer
En la Puta Vida Quotes
There are no approved quotes yet for this movie.