The End of Violence
(1997)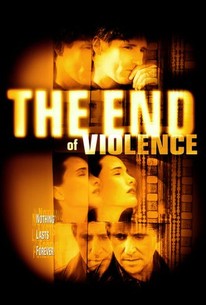 The End of Violence Videos
The End of Violence Photos
Movie Info
Wim Wenders is fascinated by the paradox that is Los Angeles. On one level, it is the stereotypical sun-drenched urban paradise characterized by a laid-back, everything-goes attitude, but on another plane it is a violent place where brutality is subtly celebrated -- and even promoted. The End of Violence centers on a diverse group of Angelenos whose lives interconnect after each is touched by violence. Mike Max (Bill Pullman) is one of Hollywood's more prominent directors of schlocky action movies. His films are among the bloodiest and cruelest in the business, and the moral implications of his business bother the money-hungry Max not a whit. He is so consumed with his business that he has little time for his increasingly frustrated wife Paige (Andie MacDowell). She plans to escape the situation by doing volunteer work in Guatemala. It is only after a gorgeous stunt woman named Cat (Traci Lind) is injured on the set that Max shows even the slightest compassion. The producer's life changes dramatically, however, after he is kidnapped by two inept but potentially dangerous hit men. Max escapes and goes into hiding at the home of his Mexican gardener and remains in seclusion there for over a month. Meanwhile, a police investigation to find Max is headed by detective Doc Block (Loren Dean). During his search, he encounters Cat and becomes fascinated by the beautiful girl -- who is secretly in contact with Max. In a parallel story, Ray Bering (Gabriel Byrne) runs a high-tech surveillance operation out of the Griffith Park observatory and with his assistant records daily events in the city. Sometimes he visits with his father (noted director Samuel Fuller), a retired military veteran. The FBI is after Bering's system and he is forced to go into hiding as well. In making this film, Wenders and screenwriter Nicholas Klein decided to explore their topic without exploiting it; thus it features very little actual violence and that which does occur, happens off screen.
Critic Reviews for The End of Violence
Audience Reviews for The End of Violence
One of 90's Wenders'. His strong interests and awareness on "the end of the century (or millennium) and examination on the new upcoming century are still affects very much on his choice of theme, story, and way of directing, following "Until the End of the World" (1991). The plot itself is quite similar to "Enemy of the State" (1998), but Wenders's interest is not on how the hero reveals the conspiracy of the Government, but on how the hero meditates and purifies himself through the relationship with people he newly met. I understand quite many audiences would disappoint or even dislike this sudden (seems so at first sight) and foggy conclusion of the film, but again, this is not Hollywood big action films like "Enemy of the State" - it is even an obvious anti-Hollywood film, I'd say, for you can find quite a lot of negative mentions on those Hollywood films in this film, although it is not the main point of the film. It is a little bit lengthy and sometimes too abstract (especially editing is little bit confusing, although it is the main force of creating the atmosphere of the film), but full of impressive scenes. Music creates an original atmosphere, and original characters well-played by great actors (not famous but very good) are lovely. Especially the cop character played by Loren Dean is my favorite. It is very interesting idea that the producer of violent films faces against real violence, thinks about it, and finally gets a clue on how to end the chain of it. Wenders's message is very positive and thoughtful.
Naoya Kugimiya
½
A muddled, longwinded, insultingly didactic Euro-American hash, redeemed here and there from its fatal purposelessness by a few moments that remind us we're in the presence of a genuine cinematic visionary.
Lee Mayo
Anthony Valletta
Super Reviewer
The End of Violence Quotes
There are no approved quotes yet for this movie.
Discussion Forum
Discuss The End of Violence on our Movie forum!