End of Watch
(2012)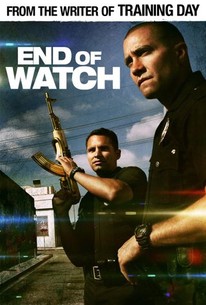 TOMATOMETER
AUDIENCE SCORE
Critic Consensus: End of Watch has the energy, devotion to characters, and charismatic performances to overcome the familiar pitfalls of its genre and handheld format.
Movie Info
From the writer of Training Day, End of Watch is a riveting action thriller that puts audiences at the center of the chase like never before. Jake Gyllenhaal and Michael Peña star as young LA police officers who discover a secret that makes them the target of the country's most dangerous drug cartel. -- (C) Open Road
News & Interviews for End of Watch
Critic Reviews for End of Watch
Audience Reviews for End of Watch
End of Watch doesn't do anything new, and what it does do has been done better. David Ayer supposedly spent only six days writing the script and it shows, merely creating the basic elements of a safe, cohesive, and marketable plot. Ayers, known for his shrill, marketable approach to filmmaking, chose the trendy documentary-style cinematography, which is supposed to increase the realism or believability of the "footage." Here, it consistently does the opposite and ends up a jumbled mess of first-person and third-person perspectives. Ayers needed a reason why our protagonist cop is carrying a camera, and conveniently has him enrolled in a film class. Are the gang bangers in film class, too? One of the them films themselves and the crew in the car as they heatedly argue -- with guns pointed at each other -- over plans to kill police officers. The other kicker is that the gang's leader yells to get the camera out of his face, while little does he know there are at least 3 more in the car that none of them are even aware of. Yes, Ayers betrays his own movie, as not only does the "amateur" footage look produced, but the majority of the movie is in 3rd person with cameras not present in the story. All that is really accomplished here is 10 minutes of the movie filled with characters complaining about being filmed. Readers would be better served watching any two episodes of The Wire, even if they've already been seen.
Matthew Slaven
Super Reviewer
½
I almost turned this off after the first half hour, but I am glad that I stuck it out. I found it a decent story. A thriller at times. Full of good performances, but also relies on typical stereotypes of Mexican gang bangers. Nothing terribly new, and I wasn't really sure why they decided to end it the way they did. All in all, though, worth watching..
Cynthia S.
Super Reviewer
Brian Taylor: Come on, man. We're cops. Everybody wants to kill us, Tre. "Every Moment of Your Life They Stand Watch" End of Watch is a hard hitting, gritty, and well made cop thriller directed with intensity by David Ayer and boasts two great performances from Jake Gyllenhaal and Michael Pena, as best friends and partners. The film is shot like a documentary in order to make it feel more real. It certainly does have a very realistic feel to it the whole way. There's parts that are disturbing, violent, and down right gruesome, but at the heart of the film is always the friendship between two fellow cops. Brian and Mike are two cops working in a heavily gang and drug influenced part of LA. They also love their jobs. They love saving lives, taking out the bad guys, and life threatening situations have become the routine for them. However, their fire and gusto may prove to get them into trouble once they start messing with an extremely powerful cartel working out of LA.  A lot of the movie is basically us watching the two cops as they go about their watches. We watch them take calls and go into situations not knowing what's going to happen when they arrive on the scene. One of the cops, Brian, is taking a film class, so he is documenting everything they do on the job. He carries around a camera when he's able to, and him and his partner also have mini cameras on their uniforms. This movie proved to be a little more emotional than I would have ever thought. It's a movie that uses all the excitement and joking between the two to really show that these guys think they are bullet proof, fire proof, and any other type of proof. Overall, this is just about as good as a beat cop movie can be. It really is excellent filmmaking.
Melvin White
Super Reviewer
End of Watch Quotes
| | |
| --- | --- |
| Officer Zavala: | Have you tried the new flavor of coffee?The baristas are excellent. |
| | |
| --- | --- |
| Officer Taylor: | It must've been a little uncomfortable 'round the folks after that. |
| | |
| --- | --- |
| Officer Taylor: | Who left their shaving cream on the table? |
| | |
| --- | --- |
| Officer Zavala: | I hope they enjoy our police service! |
Discussion Forum
Discuss End of Watch on our Movie forum!