Enemies Closer
(2014)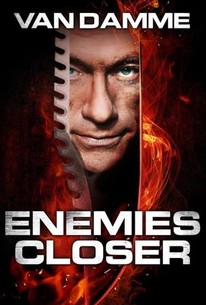 Movie Info
After a major shipment of drugs goes missing on the US-Canadian border, forest ranger and former Navy SEAL Henry is plunged into survival mode when the drug cartel forces him to help retrieve the downed package. Trapped in the wilderness with no communication to the outside world, Henry finds himself face to face with Clay, a man with a personal vendetta against Henry who has returned for retribution. Now, the two mortal enemies must make a choice: put aside their past and work together, or die alone at the hands of the drug runners, a ruthless gang who will stop at nothing to retrieve their lost cargo. (C) Lionsgate
News & Interviews for Enemies Closer
Critic Reviews for Enemies Closer
Audience Reviews for Enemies Closer
There's hardly anything new to get excited about in this mediocre action flick starring none other than Jean Claude Van Damme himself.
Farah Rizq
½
It was very pleasing to see Van Damme play the role of a bad guy. Awesome heavy hitting fighting scenes. The hair due definitely accommodated his insane bad guy role.
Joeyandtinac chisholm
A slick, stylish and adrenaline-pumping action knockout. A solid, hard-hitting, and well-crafted fast-paced action-thriller. It's highly entertaining, constantly thrilling and thoroughly engaging. An old-school and straight forward action film that hits all the right notes. Director, Peter Hyams crafts a quick-moving, smart, straight-up and riveting movie that fills the eighty minute void just fine and adds a nice little plot twist. The action scenes are tough and well-done and has some pretty great performances. Tom Everett Scott and Orlando Jones are terrific. Jones and Scott have some good character moments and prove to be more than a passable match for Van Damme. Jean-Claude Van Damme is sensational, he gives a great and nutty villainous performance, one of his best roles and performances in some time. It's great to see Van Damme and one of his favorite directors again doing what they do best.
Discussion Forum
Discuss Enemies Closer on our Movie forum!