Entre nos (Between Us)
(2009)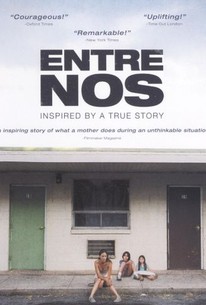 Entre nos (Between Us) Videos
Entre nos (Between Us) Photos
Movie Info
Inspired by true events, Paola Mendoza and Gloria La Morte's deeply-personal family drama follows one devoted mother's quest to provide for her two beloved children after being abandoned in a strange new land. Columbia native Mariana (Mendoza) and her two children have just arrived in Queens, NY to be with her husband when he announces he'll be leaving for Miami and they're not welcome to join him. Left to fend for herself and her two young children in an unfamiliar city and no friends to speak of, Mariana struggles to find work while forming a close bond with a single mother named Preet (Sarita Choudury). Before long, Mariana has found a way to make some money through recycling, and her 10 year old son has stepped up to the task of becoming both father and brother to his impressionable young sister.
Rating:
NR
Genre:
,
Directed By:
Written By:
On DVD:
Runtime:
Studio:
Critic Reviews for Entre nos (Between Us)
Audience Reviews for Entre nos (Between Us)
Excellent Spanish film. Superb acting. Great plot. Must watch. Subtitles. About a woman whose husband runs out on her and her kids. People can relate to this. Emotional, interesting.
Jennifer Torres
There have not been many films out there that actually try to capture the struggles of illegal immigrants in the USA. Good thing that netflix exists because I found an incredible drama that perfectly portrays it called Entre Nos (Between us). The film follows a family of four which consists of Mariana (Paola Mendoza) and her two kids and her husband Antonio (Andres Munar) He's the kind of man who can never stay still in one place and always have to move to somewhere else. They have moved constantly in there native country and then finally to the United States. One day he tells her that he's found a new job in Miami and that he is headed down there. He says to her that once he gets settled that he will send for her. She reluctantly lets him go leaving her alone with the kids without her having a job. One day she discovers that he doesn't want her to come or even the kids, leaving her abandon. As well as to make matters worse there are illegal. The movie is an unforgiving look into the life of immigrants who fall in hard times. It also shows how messed up the system that our government employs to solve these issues, while the movie is not political. You can feel the air of tension of her getting caught and then getting her kids taken away and being deported. I love the acting in the film especially of Mendoza she is great. Her performance as the mother is excellent. She has this knack in the entire film where no matter how things are going she still stays strong in front of her kids. She does falter and there are scenes that make you believe that she will break, but she calmly picks her self up. The child actors are great as well. The film was directed by herself Paola Mendoza herself with a co director. It's based on true life experiences (The movie is dedicated to her mother which the movie is based on) and she knows how to sidestep clichés and melodrama into more serious tones. Entre nos might feel bleak at times but life is like that sometimes, it does not care about your plans. Mendoza perfectly infuses a bleak future with simple ending of hope. 4/4
Miguel Perez
½
Inspired by a true story,Entre Nos is an uplifting,tender,and very moving film about what a mother does during an unthinkable situation. Paola Mendoza does an amazing double job as the director of the film,and also in the role of the mother,giving a heart-tugging and inspiring perfomance. She make this film in honor of her mother,who she plays in the film,a loving and grateful gift to her mom. One of Michael Moore's 20 "Best Pictures" of 2009. A remarkable independent film from a very talented lady!
Benjamin Zapata
Entre nos (Between Us) Quotes
There are no approved quotes yet for this movie.
Discussion Forum
Discuss Entre nos (Between Us) on our Movie forum!