Envy
(2002)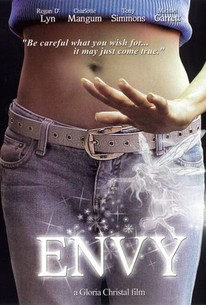 AUDIENCE SCORE
Critic Consensus: No consensus yet.
Movie Info
Stacy (Regan D'Lyn) and Lydia (Charlotte Mangum) are drinking in a redneck bar when the bartender (Tony Simmons) accosts Stacy. Lydia embarrasses the assailant by criticizing his small appendage, enabling the girls to escape. Outside the bar Stacy attempts to quickly relieve herself but finds the task difficult. Fortunately, Stacy encounters the Penis Fairy (Michael Garrett), a magical drag queen who assists Stacy with some of her gender issues by granting her a wish of a penis whenever she desires one. Along with her new body part she also sprouts a full mustache and tattoos. Lydia, who already has masculine tendencies, gets jealous and desires what used to typically be a male organ of her own.This low budget comedy is full of perverse delights and hilarious, raunchy dialogue. This satire on gender politics benefits from strong performances, loads of double entendre, and a queer sensibility that bends gender at every turn.
Critic Reviews for Envy
All Critics (1) | Fresh (0) | Rotten (1)
An implausible plotline, seasick cinematography, and absence of humorous moments add up to an irritating, insulting experience which explains why Dreamworks decided to delay the film's release for a year. It should have been left on the shelf.

Audience Reviews for Envy
Not as bad as the movie he made with Drew Barrymore about the apartment with the crazy upstairs landlord, but I can't help but to think Ben Stiller made this movie to fulfill a contract quota. A bottom-rate comedy for a top-rate comedian. And the actress who played his wife was plain awful (fortunately, she didn't have too much face-time.)
C R
[size=7]gothika[/size] has to be one of the dumbest movies i have ever seen [size=7]envy[/size] [size=4]read gothika [/size] [size=7]jeepers creepers 2[/size] [size=4] a awful movie that somehow was worst than the first one in every way [/size] [size=4][/size]
john r
[indent]So I was so pumped to see this movie. I wanted to see it in thearters but just did not have the time. So when it came out I rented it rite away. So i started to watch it. It was funny at the start but then all of the sudden it got kindda boaring based on this guy who "envyed" his best friend. The best part is at the very start but not much after that.:rotten: [/indent]
Aaron Hoeing
Envy Quotes
There are no approved quotes yet for this movie.
Discussion Forum
Discuss Envy on our Movie forum!