Eorin shinbu (My Little Bride)
(2003)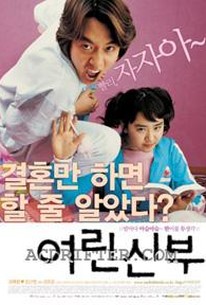 AUDIENCE SCORE
Critic Consensus: No consensus yet.
Movie Info
Sang-min (Kim Rae-won) is a college student who has just returned to Seoul after studying abroad. He thinks of himself as a ladies' man and chases after nearly every pretty girl who crosses his path. He ogles a girl at the airport who turns out to be Bo-eun (Moon Keun-young), who's there to pick him up. Bo-eun is only 16 and still in high school. Her grandfather (Kim In-moon) raised Sang-min's father (Han Jin-hie) after Sang-min's grandfather died, so the two are practically family. Sang-min and Bo-eun get a shock when they learn that her grandfather promised that their grandchildren would one day marry. Her grandfather is in poor health (he pretends it's worse than it is to further his plan) and his "dying wish" is for Sang-min and Bo-eun to wed. Though they tease each other like siblings, the pair cannot refuse the old man's wish, so they make plans to wed. Bo-eun has a crush on Yong-joo (Chan Yoon), her school's star pitcher, and she's too embarrassed to tell anyone at school what's going on. Her best friend, Ji-su (Kim Bo-Kyung), who also likes Yong-joo, finds out. The couple are reluctantly married and go off on their honeymoon, but Bo-eun bails at the last minute, leaving Sang-min on the flight alone. When he returns, they put on an act for their families, pretending the trip went well. But things get more complicated when Sang-min is assigned to teach at Bo-eun's school, and the two have to go to great lengths to keep everyone from finding out that they are husband and wife. My Little Bride was directed by Kim Ho-jun, from a script by Yu Sun-il. It was shown at the 2004 New York Korean Film Festival. ~ Josh Ralske, Rovi
Critic Reviews for Eorin shinbu (My Little Bride)
There are no critic reviews yet for Eorin shinbu (My Little Bride). Keep checking Rotten Tomatoes for updates!
Audience Reviews for Eorin shinbu (My Little Bride)
This is your atypical South Korean rom-com. Light, bubbly and fairly inoffensive. Well, with one major exception, and one that, quite frankly presents a really massive problem if it does actually reflect actual Korean society and how parents' domineering presence in their children's lives, telling them who to marry, when to marry them, when they're allowed to have sex, etc. Essentially, the leads in this movie, a college student and a 16-year-old high school girl are forced to marry each other because their grandfather, he raised the father of the college student, Sang-min is technically not his biological grandson, made a promise to a man he knew in the navy that their families, in some way, shape or form would be in-laws. Naturally, at first, since Sang and Bo are naturally not receptive towards this. So the grandfather, in quite the dick move, fakes that his health is getting worse. Sang and Bo, naturally, go to the hospital to visit their grandfather. While there the grandfather makes it look so like he's flat-lining, when in reality he's just disconnecting some of the cables hooked up to him, so Bo, in an emotional moment, says that she will marry Sang and help keep her grandfather's promise to his friend. This motherfucker literally faked his death in order to get his way and get his grandchildren to marry each other. Holy fuck. And then the two families go along with it. They make it so, and perhaps this is how it actually is in South Korea, Bo can get married at 16 with her parents' consent, which they give. Which is funny, because even when the parents give consent, they're also telling the couple what they can or cannot do while they're married. They're not to kiss, have sex, or children, until Bo graduates college. These motherfuckers wouldn't have had to worry about setting conditions if you didn't give her your consent to get married. It would've been something if they actually used it later in the film so Sang and Bo can actually stand up to their entire family for, essentially, being the biggest assholes on earth. But no, neither Sang nor Bo ever stand up to their family for forcing them to marry each other despite not actually loving each other. I know South Korean culture is far more respectful of elders and usually, at least in films, you see some type of domineering, but this is literally at another level. I honestly wanted both families to die horrible deaths, the grandfather in particular for being the asshole stat started it all. I'm sure that wasn't the intention. But the entire family in this film might be the most unlikable family I've ever seen in any South Korean film ever. Just insufferable people. It's just a shame, because they pretty much have an entire dramatic scene planned out based on the fact of the family's domineering presence in their lives, but they never do anything with that. Like they just push that aspect of the scene to one side after Sang and Bo are married, so they, essentially, are just a means to an end, which really makes things worse. Honestly, I started giving this movie 2.5 stars, but my annoyance at the family has bumped this down to 2 stars. It's not like I thought this movie was good or anything, once the family is removed from the equation, for good, the film is, as I mentioned, the type of South Korean rom-com that I've come to expect. Nothing more, nothing less. It's silly, light, bubblegum pop. It's a little vanilla, for sure, and I'm assuming that they were hoping that the college student being married to a 16-year-old would end up being more provocative than it ended up being. Smartly, the couple never actually do anything on screen, they barely even kiss in one fantasy sequence. So that was probably smart. And, really, the whole 'not being able to kiss' thing was probably something that you wouldn't normally see in these kinds of films. A lot of these rom-coms end up playing more conservatively, like there's hardly any sex and if there is it's heavily implied, the kisses are relatively tame, but there's still there for the big romantic climax. This movie doesn't have any of that, so that at least was something 'different'. The movie is sentimental, no surprise there. Particularly when the film discovers that Bo has been dating a high school boy that she liked. It's not like the family chastises her for dating this kid while she's married, but their reaction is absurd particularly when they put her in this situation in the first. These motherfuckers forced her hand in marrying someone she didn't love, so it's annoying to see Bo so ashamed about it, when she was forced to do something she clearly had no interest in doing. That's really poor characterization to me, because, in the end, there's still no real freedom of choice, they just gave her way to fulfill a foolish old man's absurd request. It also means that, at the end, the grandfather was right in doing what he did because they ended up falling in love with each other. They don't explicitly state this, but it's heavily implied and is that really the message you want to send? I think a better ending would've been those two getting a divorce and being with the people that they were actually interested in, because that's just what it seemed to be gearing towards. Instead they went with the easy, crowd-pleasing ending. It's not like you can't make an ending where Bo and Sang get a divorce crowd-pleasing. In theory, these two learned a lot about each other in their marriage, so they could've grown closer as people but they would've also taken their own path to happiness, instead of the one that their respective families chose for them. It would've been poignant and effective, at least to me. I know we're supposed to rate the movie as it is and not as I wanted it to be like, but there's also no denying that the ending that I suggested would've been substantially better. And if you had that ending and a scene where Sang and Bo finally stand up for themselves against their idiotic family, then it would've been even better. It might've even made this movie solid. With that said, and I did have many complaints, the family being insufferable people being the first one, this is still an easy movie to watch in that it is the film equivalent of bubblegum pop. It's not edgy, it's not anything even remotely provocative, but it's an easy to digest movie. I don't think I'd recommend it, but it's not like this is terrible, it's just below average.
Jesse Ortega
Super Reviewer
½
This was sweet and funny. Yes the girl was too young to get married. But it happens in real life too so let's not get too shocked. Mun Geun-Yeong looked really adorable. I liked how decent Asian movies are. No nudity or anything. They even looked shy to kiss each other. That makes it good movie to watch with your whole family.
Dead Angel
Super Reviewer
Fresh and funny!!! A delightful comedy!!! Makes you want to laugh for the whole movie... The story was original and touching at the ending... Another great Korean movie!!!
Sanjaya 丘耀文
Super Reviewer
Eorin shinbu (My Little Bride) Quotes
There are no approved quotes yet for this movie.