Epitaph (Gidam)
(2007)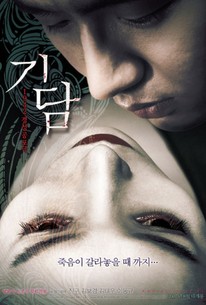 AUDIENCE SCORE
Critic Consensus: No consensus yet.
Movie Info
Filmmaking siblings Jeong Sik and Jeong Bum-Sik share directing credits on this discomforting tale of an ageing doctor with a disturbing past. The year is 1979, and Dr. Park has just received a photo album from 1942. Back in those days, Dr. Park and his friends found themselves caught up in a series of strange incidents. Though Park had been reluctant to take the bride that his parents had previously arranged for him, he was stunned to learn that the dead body he had fallen so deeply in love with was in fact the very woman who would have been his wife. Later, a young girl is brought into the hospital after surviving a horrific car accident. Though she was the only one to make it out of the crash alive, ghosts seem to haunt her every time the sun goes down. As these two parallel stories gradually unfold, the viewer is also introduced to a married pair of doctors from Tokyo who always seem to be surrounded by serial killers. Before making his feature directorial debut with this film, co-director Sik worked as an assistant director for acclaimed South Korean filmmaker Park Chan-Wook on such films as Sympathy for Mr. Vengeance and Oldboy. ~ Jason Buchanan, Rovi
Critic Reviews for Epitaph (Gidam)
Audience Reviews for Epitaph (Gidam)
½
The curse of the nonsensical Asian horror movies continues. Don't get me wrong, this movie has some good ideas and some artfully done sequences, but the story makes absolutely no goddamn sense to the point where, and I've mentioned this before with these types of movies, that I just don't want to spend my time figuring out what the hell is going on in this movie. I just didn't give a crap at all, because, the problem is, that the people who put together this movie THINK that this is what a good horror movie is. Atmosphere first, story second. And that's fine, but at least write a story, even if it's simple, that makes sense. Don't think that because you have good atmosphere that will make all your other flaws less apparent. The Others is one of the best horror movies as far as atmosphere goes. It had a creepy and Gothic look and the story was well written. I mean, is this really that hard to do? I don't know when this shit started, but this idea of writing a purposely confusing story has GOT to go immediately. It's not working, 95% of the movies end up being uninteresting to follow so why would I spend time trying to figure it out. Some good ideas here, but the convoluted and contrived plot make this a bad movie overall.
Jesse Ortega
Super Reviewer
Creepy and confusing. Mostly confusing.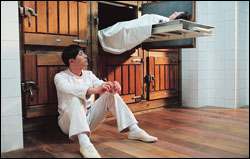 Three twisted tales of ghostly love take place around a similar time in a Korean hospital. It avoids too many comparisons with other Asian horrors and this is to it's credit. The main contributer to this is the setting. Wonderful set design and costumes recreate a bygone era. The film also has more terrifying ghosts than the usual long haired dressed in white woman. Some of the scenes are beautiful, especially a wel crafted tracking shot that goes through many doors. As each slides open we see a glimpse of a moment in time from a young interns life. Some of the scares are bloody, suspenseful, creepy and shocking. It's a pretty solid film but the highlights tend to make the generic horror moments seem even less successful. A lovely film to watch with many genuine chilling moments.
Luke Baldock
Super Reviewer
Epitaph (Gidam) Quotes
There are no approved quotes yet for this movie.