Erasing David
(2010)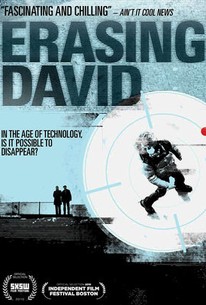 AUDIENCE SCORE
Critic Consensus: No consensus yet.
Movie Info
Filmmaker David Bond explores the practical issues of privacy in a world of prying electronic eyes in this documentary. As the public and private sectors stockpile more data on ordinary citizens and a growing number of people are willing to share the details of their lives on line, how secure is an average individual? Bond decided to find out -- he opted to "disappear" for a month, and hired a detective firm to find him. The detectives had nothing to go on but Bond's name, but before long they knew where he lived, where his father lived, that his wife was pregnant and could easily track Bond to most of his hiding places as he struggled to outsmart them. Erasing David exposes the realities of our culture of surveillance as well as Bond's mounting anxieties as he learns how few secrets he (and most people like him) truly have. Erasing David received its North American premiere at the 2010 South by Southwest Film Festival. ~ Mark Deming, Rovi
Audience Reviews for Erasing David
Might be a good movie for those in the UK, but sucks for security in the US
Bruce Bruce
Super Reviewer
[IMG]http://hphotos-iad1.fbcdn.net/hphotos-ash4/299211_243095575741182_150123598371714_708416_1704475224_n.jpg[/IMG] Title: Erasing David MPAA Rating: NR Director: Melinda McDougall Starring: David Bond Runtime: 1 hour 20 minutes What it is? David Bond is a citizen of the United Kingdom. He has a wife who is almost ready to pop out a baby and also has a little toddler to begin with. With technology growing and growing, data of us is kept in even the smallest instances. From our cell phones and Facebook profiles to hospital registrations and credit cards, you can find out even the smallest bit about someone that can lead to something huge. Bond is out to prove how much information is kept of us. How? He has hired two private investigators to try and track him, as David tries to disappear off the grid. They have 30 days to find him, by only knowing his name and what he looks like. What We Think? This review might a bit short, but it doesn't mean that it's a bad film.This documentary is actually a very insightful look at a system in which we live our lives, normally. Security cameras, the stuff we throw away, and everything in between leads back to us in some way shape or form. Armed with a handheld camera, we follow David through the countrysides and cityscapes thinking that any move could be the one move that gives everything away. Who he calls, what he buys, where he stays, becomes a case of "viewer paranoia". Yet a very real, raw look at how we live our lives. Our Facebook and Twitter profiles, our cell phones, all tracking where we are and what we are doing. Our Grade: B+, Bond brings out the big guns and backs up exactly what everyone has been worried about...security. Documents and video footage has obviously been some of his biggest proof. But did he last the 30 days of being on his own? You'll have to watch to find out. -Phx. Follow Phoenix on Twitter - @EvolutionPhx Follow William on Twitter - @TheLSW Follow FilmSnobs on Twitter - @FilmSnobReviews
FilmSnob Reviews.com
An exercise in paranoia. This is a documentary about a man named David who decides to go "missing" for a month to see how easily he could be found. He leaves his 7 month pregnant wife at home alone with their 2 year old daughter to do this. What a star. This whole movie felt kind of boring and actually a bit pointless. A bit hard to feel the suspense when the two guys hunting him have been paid - by him - to do so. It's not like there is going to be a shoot out at the end. Amusingly enough, in the end he is "caught" by something obvious - not facebook, mobile phone, CCTV, credit card or any of the usual things people get paranoid over. Yet he still feels "data raped" at the end. Yes, I agree, people need to have some common sense with the things they reveal, but I really get exasperated with people in general who seem to think all are out to get them and their "personal information" and this is just an indulgent 80 minutes of that non stop. I know it happens, but all this is going to do is make people who are so inclined even more paranoid and tiresome.
Nicki Marie
Super Reviewer
Erasing David Quotes
There are no approved quotes yet for this movie.
Discussion Forum
Discuss Erasing David on our Movie forum!